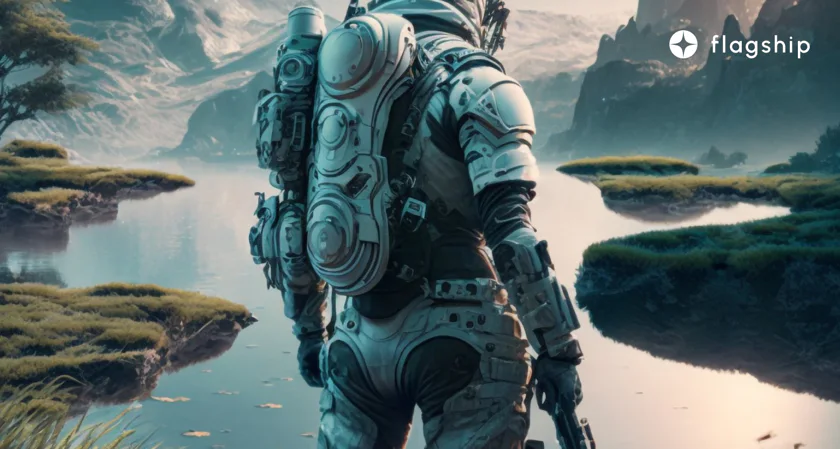 Kryptoria is rebranding; working towards multiple launches
Kryptoria, an innovative and playable web3 game, has just announced a rebranding. We'll have a look at their plans and its implications!
---
Kryptoria, an innovative and playable web3 game, has just announced a rebranding. The rebrand is a full-fledged visual makeover of the brand and website. It follows a strategic business decision of the team to set up a parent company and expand into other businesses and comes in the lead-up to various upcoming releases. Let's dig in.
Kryptoria's game has been live in Beta version for roughly 6 months now. During this period, the game has been consistently iterated in a build-up to the release of the full game: Kryptoria: Beyond the Portal. Part of this is the Alpha Hero mint, which will take place on their website on March 29th!
The 3D, customizable avatars will be fully dynamic and interoperable (powered by LayerZero Labs), as they will be the holders' digital representations across worlds. The team has also hinted at the release of a unique ERC-20 token, Ellerium ($ELLE), on which we will provide more information once available.

The game and company Kryptoria launched in August 2022. In these mere 6 months, the Kryptoria team has achieved impressive milestones, including:
Building the most immersive blockchain-powered strategy game
Minting three collections of 10,000 dNFTs each, denoting ownership of in-game assets
Building a sophisticated commercial ecosystem connecting brands, businesses, and web3 communities
Forming a tight-knit, avid community of tens of thousands
Creating a wider universe of lore and IP that resonates across the space
Closing deals with multimillion-dollar brands, web3 projects, and businesses
Setting new technical benchmarks in the space, e.g., dNFTs and low-gas soft staking
Releasing the Beta of the fastest-growing blockchain-powered strategy game with over 120,000 battles in under 2 months since launch.

The ongoing rebranding follows the team's decision to set up a parent company called Heatstroke Entertainment (HE). This strategic move allows the team to expand beyond Kryptoria. The Kryptoria team has set their sights on creating multiple web3 projects spanning sectors from gaming to entertainment, using both original and AAA partner IP.  Heatstroke has attracted significant investment in this value proposition, being far wider than the original roadmap of Kryptoria. Artists, businesses, and creative entities have already signaled interest in working with Heatstroke, according to the team. 

With the rebranding, coming releases, and a new NFT mint, things are looking bright for Kryptoria and its community. The team's strategic expansion through Heatstroke Entertainment can lead to interesting new value streams both within and outside the Kryptoria universe. We will be closely following this fast-moving project and team! 
Disclaimer: Nothing on this site should be construed as a financial investment recommendation. It's important to understand that investing is a high-risk activity. Investments expose money to potential loss.