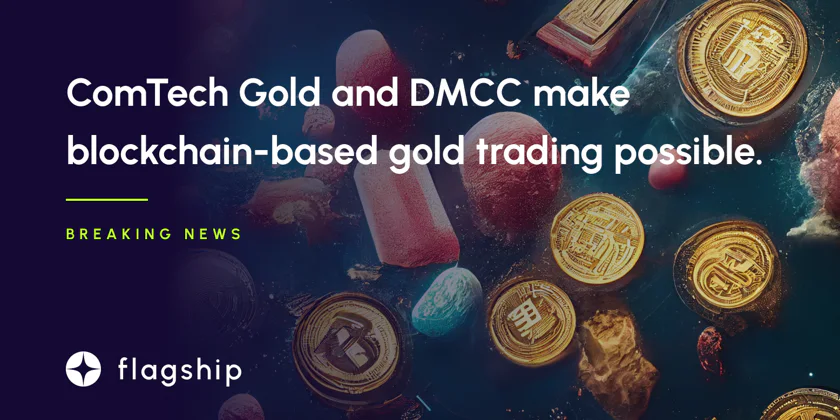 ComTech Gold and DMCC work together to make blockchain-based gold trading possible
ComTech Gold and Dubai Multi Commodities Centre (DMCC) have partnered to enable the trading of physical gold bars using blockchain technology.
---
ComTech Gold and Dubai's DMCC worked together to tokenize precious metals backed by actual gold bars registered in DMCC Tradeflow to digitize gold trading.
DMCC Tradeflow is an online platform for registering ownership of goods kept in UAE facilities introduced in 2012.
The platform now offers a wide range of online services designed to make it easier to provide secured financing, financing for jewelry, and Islamic financial services.
According to the announcement, the Commtech Gold Token (CGO) will be created on the XinFin Protocol (XDC) blockchain network based on deposits of actual gold bars in vaults that the DMCC has approved.
A Tradeflow warrant backs each gold bar. To put it another way, Tradeflow Warrants combine enhanced security, transparency, and allocation of tangible assets with the ease of trading tokenized assets.
By allowing investors and traders to buy as little as 1 gram of gold per token, the asset class is democratized and made more accessible.
Tokens are both Shariah-compliant and extremely valuable because they are backed 1:1 by real gold in the form of 1-kilogram bars with a purity of 999.9 from reputable companies.
Each bar has a distinctive identification number and a certificate issued by the refiner, per global best practices for transparency in the precious metals industry.
Both partners have stated that they want to simplify the gold trading market. The objective is to create an investment-grade gold product using blockchain technology. T
he DMCC and ComTech claim that CGO tokens do away with the need for investors to store and move actual gold bars.
As stated in the announcement, the trading of fractional shares of a single gold bar is also made easier by tokenization.
"Recent market events have highlighted the need for greater transparency and crypto tokens backed by underlying, real-world assets," said Ahmed Bin Sulayem, executive chairman and CEO of DMCC. "DMCC firmly believes that blockchain solutions will drive long-term growth in global trade across industries and asset classes, and this latest announcement is another testament to this core belief."
Regarding global gold consumption, the UAE is fourth after China, India, and the US. In Q1 2022, the UAE consumed 12.5 tonnes of gold, a 50% increase from the prior quarter.
Disclaimer: Nothing on this site should be construed as a financial investment recommendation. It's important to understand that investing is a high-risk activity. Investments expose money to potential loss.