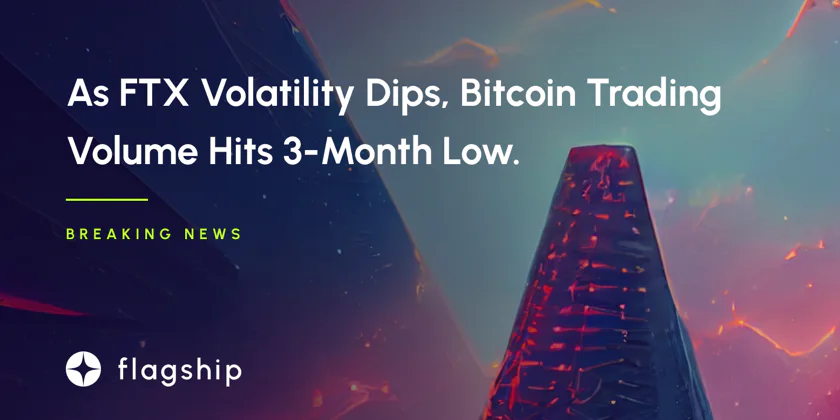 As FTX Volatility Dips, Bitcoin Trading Volume Hits 3-Month Low
As renewed market volatility because of the FTX fiasco subsides, data shows Bitcoin trading volume has plunged to a 3-month low.
---
According to Arcane Research's most recent weekly report, trading volume on the Bitcoin (BTC) market has slowed. One metric that tracks the daily activity of the Bitwise 10 exchanges is the "daily trading volume," which reflects the total value of Bitcoin transactions that take place on those exchanges.
Although the Bitwise 10 exchanges do not represent the entire market, they provide a reasonably close proxy for overall spot market activity.
A high trading volume indicates that traders exchange a lot of money on spot markets. A rising pattern like this suggests that investors are very active right now.
Conversely, low values of the metric indicate a lack of current exchange activity. This may suggest that people aren't inquisitive about cryptocurrency right now.
The following graph displays the development of the 7-day moving average of the daily trading volume of Bitcoin over the past year: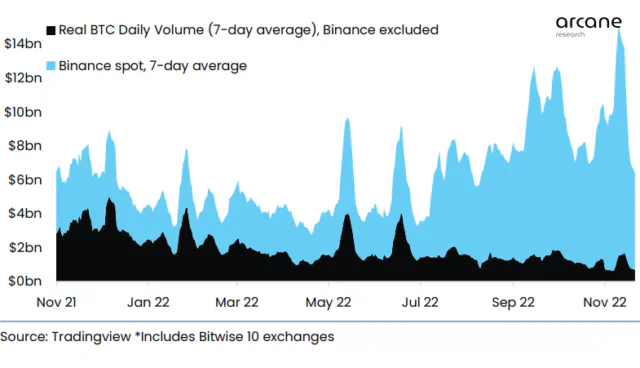 The chart above shows that the seven-day moving average of Bitcoin trading volume recently reached a new all-time high.
The failure of the cryptocurrency exchange FTX prompted investors to act quickly, driving up activity on spot markets.
Bitcoin's volatility increased at the same time that its price plunged. But in the last week, the market has stabilized a little, and both the activity and the volatility have decreased from their previous highs.
The weekly average trading volumes of Bitcoin have fallen to levels not seen in about three months as the market has become more tranquil.
The price of Bitcoin is currently around $16.5k, down 1% from a week ago.
The cryptocurrency market has dropped by 14% over the past month.
A 5-day chart of the coin's price movement is provided below.
The bitcoin price, which had fallen below $16,000 a few days ago, has since recovered to over $16,000.
Disclaimer: Nothing on this site should be construed as a financial investment recommendation. It's important to understand that investing is a high-risk activity. Investments expose money to potential loss.