The crash of FTX and crypto!
As you've probably noticed, the market is in free fall, and there's a lot of speculation and rumors about what's going on. We're sending you this update to give you the most recent information.
---
Hi there,
As you've probably seen, the market is tanking, and there's lots of speculation and rumors about what's happening. We're sending out this update to provide you with the latest information.
Please be aware that this is an ongoing situation with many fresh developments.


FTX, one of the leading crypto exchanges, has become insolvent. It started with a leaked report of both the exchange's and its connected VCs (Alameda research, owned by the founder of FTX) balance sheets. Click here for the in-depth article.
This information slowly started spreading throughout the crypto spheres and eventually led to Changpeng Zhao (CZ), the founder and CEO of Binance, publicly announcing that the exchange began selling all their $FTT holdings, which amounted to roughly $500 million.

This started a cascading effect in the markets, where traders started selling before Binance. Coupled with Binance unloading and various large investors selling out or precaution, the price of $FTT plummeted. This raised whether FTX and Alameda, FTX's VC arm, were solvent, which led to massive withdrawals on FTX, a good old-fashioned bank run. Around $4 billion got pulled from the exchange. That was until there was nothing to withdraw anymore…
They suspended all withdrawals today (08/11) around 15.00. Similar events earlier this year (Terra Luna, UST, Celsius) showed everyone's biggest fear; FTX, one of the biggest exchanges with colossal exposure and sponsorship deals, was indeed insolvent.


During what might have been the most extended 2 hours in crypto history, panic began in the market, and FTX's token, $FTT, crashed roughly 35%. Just as the entire market started seriously dropping, Sam Bankman Fried, CEO, and founder of FTX, finally communicated with the public. To everyone's surprise, the industry wunderchild announced their most significant competitor: Binance had purchased them.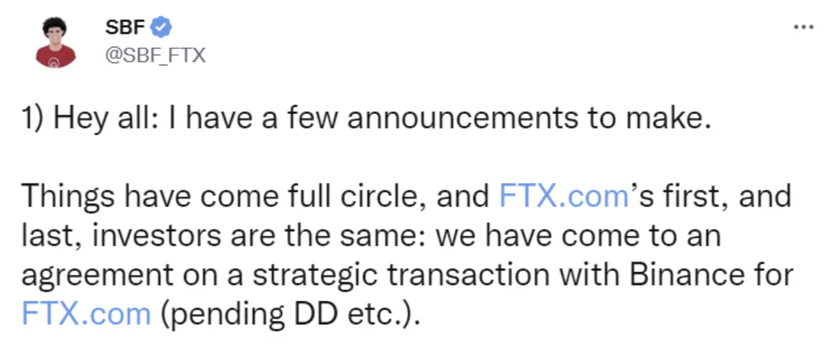 At first, Sam asked around his network to fill the alleged $2 billion gap in their balance sheet. At this point, Binance stepped in to fill the gap and take over FTX. While confirmed by both founders, nothing has been signed yet.

As far as we understand, the deal still hinges on the size of the gap in FTX's balance sheet. If this gap is too large, the deal might still fall through. Additionally, US regulators might also still interfere in the purchase.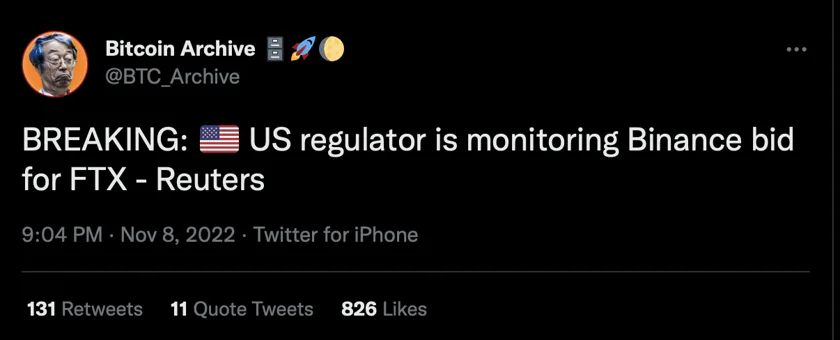 Traders are at least not buying it, and FTX's $FTT token has since this afternoon dropped roughly 80%. There's also a lot of risk in the markets right now as nobody knows who's solvent and who's not, and both FTX and Alameda might have to sell many more crypto assets to cover their balance sheet deficits.
This is the last we know about the situation. We'll keep you updated once we know more.

Flagship is an easy-to-use DeFi platform. We provide you access to early investment opportunities across emerging crypto sectors through our cross-chain ecosystem of decentralized funds and a network of experts.
Join our Discord to be part of our active community and discover new assets and opportunities
Check out our website and whitepaper here
Get in touch with the team
We'd love to have you onboard!
Disclaimer: Nothing on this site should be construed as a financial investment recommendation. It's important to understand that investing is a high-risk activity. Investments expose money to potential loss.