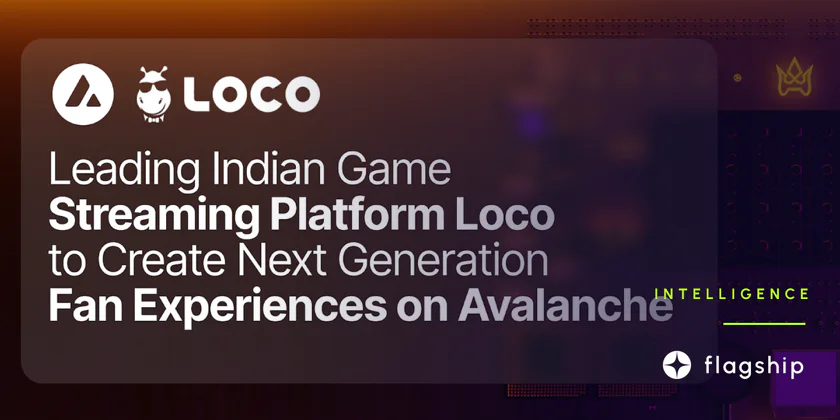 Indian Game Streaming Platform Loco Partners with Avalanche to Create Next-Generation Fan Experiences
Loco targets the Indian gaming community with its suite of Web3 products that bring innovative fan experiences using a custom Avalanche Subnet, expanding Avalanche's rapidly growing footprint in Asia.
---
The Indian gaming industry has steadily grown, with more people considering gaming as entertainment. To cater to this growing demand, Loco, a leading independent esports and live-streaming platform has partnered with Avalanche to create a suite of Web3 products that will bring innovative fan experiences utilizing a custom Avalanche Subnet.
This partnership comes after Loco raised $42 million in one of the largest Series A rounds in Indian and South East Asian gaming history. In addition, Loco has partnered with significant gaming publishers like Krafton, Activision Blizzard, and Riot Games. With the partnership, Loco is targeting the Indian gaming community, providing high-engagement, fun products they can own.
Loco's Avalanche Subnet and ongoing product campaign mark yet another new chapter in the story of Avalanche's rapid expansion in Asia. Recently, Chinese technology giant Alibaba and Japanese gaming trailblazer GREE each announced Avalanche initiatives. Like GREE, Loco will run its Avalanche validators, reflecting a deep commitment to securing and building on the network.
Loco is building a suite of Web3 products that will target two key markets: collectibles and fantasy sports. The fantasy sports industry generated over $22.7 billion in revenue in 2022, projected to grow to $48 billion by 2028. Digital collectibles are the fastest-growing sector of the $400 billion+ global collectibles industry. Loco's Web3 initiatives will enable fans to express their fandom, placing them as talent managers and scouts, helping them leverage their knowledge, and adding a new exciting layer to their watching experience.
Loco's initial products will be designed to give back control to the user, bringing collectibles to the fantasy gaming experience. These collectibles will be unique, scarce, and have publicly verifiable ownership. Users who enjoy watching their favorite creators can now directly engage in the action by building the best entertainment roster or esports team and competing with other fans in fantasy games on these platforms.
The commitment to building on Avalanche is part of Loco's efforts to provide the Indian gaming community with reliable and secure platforms to store, buy, and sell digital assets. Using the custom blockchain to tailor its apps and scale to a user base of hundreds of millions of customers, Loco aims to keep network fees and transaction latency low, providing a seamless user experience.
With the recent upgrade to Avalanche Warp Messaging (AWM), Loco's users can trade Loco Legends collectibles with other assets on Avalanche. Additionally, Loco will receive support from Ava Labs through the Multiverse Incentive Program, helping launch its collectibles marketplaces.
"We are excited to begin 2023 with this partnership with Ava Labs," said Anirudh Pandita and Ashwin Suresh, co-founders of Loco. "Our endeavor is to provide users with reliable and secure platforms to store, buy, and sell digital assets while ensuring that the user experience is simple yet fun."
"Pioneers like Loco are breaking new ground with ways to use digital collectibles for both fan engagement and applications layered on top that were previously not possible," said John Wu, President of Ava Labs.
Overall, Loco's partnership with Avalanche will enable the platform to provide its Indian gaming community with high-engagement, fun products they can own while keeping network fees and transaction latency low. This move will significantly contribute to the growth of the Indian gaming industry and expand Avalanche's rapidly growing footprint in Asia.
Subscribe to the Avalanche newsletter
Leave your email below and get more info like this:
Disclaimer: Nothing on this site should be construed as a financial investment recommendation. It's important to understand that investing is a high-risk activity. Investments expose money to potential loss.