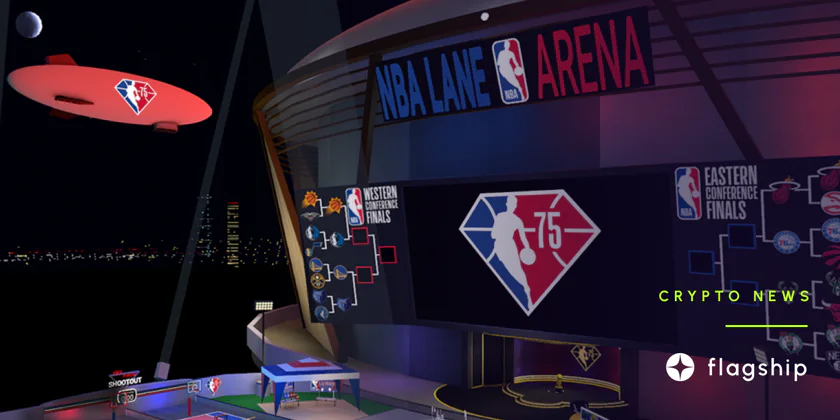 Meta and NBA Announce VR Games Strategic Partnership, META Shares Up 2.8%
NBA-licensed apparel can be purchased in the Meta Avatars Store, and authenticated NBA League Pass access can be obtained in Xtadium thanks to the extension of the partnership between Meta and the NBA
---
The National Basketball Association (NBA) and Meta Platforms Inc. have announced a multi-year partnership extension to offer enhanced virtual reality (VR) games through the Meta Quest. The announcement states that live NBA League Pass games will be available in virtual reality all season long on Meta Quest, the NBA, and WNBA's official VR headset. Basketball fans can consequently watch NBA Arena games live in the Meta Horizon Worlds. Following the news, META stock increased by about 2.8 percent on Monday, closing the day at $143.27. After falling by more than 53% last year, META shares have had a profitable start this year, rising by about 20% YTD.
As a result of the renewed agreement between Meta and the NBA, Xtadium, a virtual reality (VR) sports hub app that allows users to watch sporting events together in high definition will now provide authenticated NBA League Pass access to its users. As part of the partnership, several upcoming NBA games will be available on Meta's device to watch in virtual reality. Today, the Denver Nuggets will take on the New Orleans Pelicans, tomorrow the Milwaukee Bucks will host the Nuggets; on January 27, the Cleveland Cavaliers will face the Oklahoma City Thunder; and on January 29, the Los Angeles Clippers will host the Cavaliers.
"Our extended partnership with Meta will provide more immersive and innovative ways to experience the NBA," said Jennifer Chun, NBA Executive Vice President and Head of Content Partnerships. "Meta's digital world opens up exciting possibilities for NBA fans to virtually attend our games and to interact with other fans around the world."
Subscribe to the Metaverse newsletter
Leave your email below and get more info like this:
The preliminary game schedule for the NBA Arena is highlighted below:
Monday, Jan. 23: Milwaukee Bucks vs. Detroit Pistons – 7 p.m. ET
Tuesday, Jan. 24: Denver Nuggets vs. New Orleans Pelicans – 8 p.m. ET
Wednesday, Jan. 25: Denver Nuggets vs. Milwaukee Bucks – 8 p.m. ET
Friday, Jan. 27: Cleveland Cavaliers vs. Oklahoma City Thunder – 8 p.m. ET
Sunday, Jan. 29: LA Clippers vs. Cleveland Cavaliers – 7 p.m. ET
Tuesday, Jan. 31: Miami Heat vs. Cleveland Cavaliers – 7 p.m. ET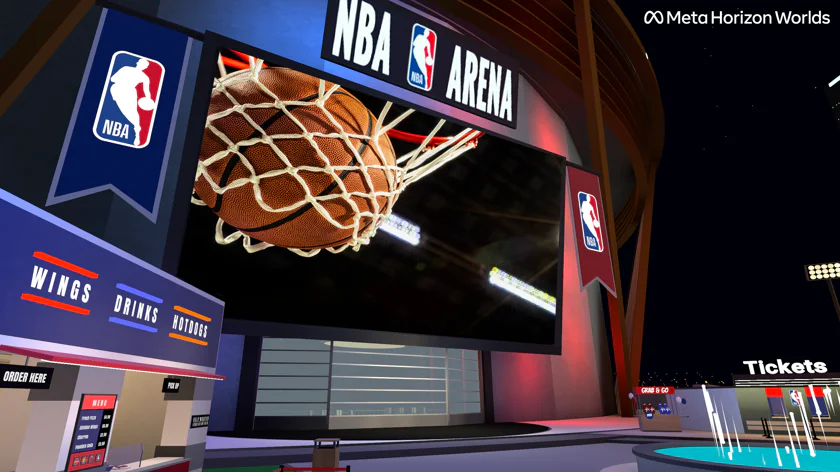 As a result of the collaboration between the NBA and Meta, 52 live NBA League Pass games, including five fully immersive 180-degree monoscopic live VR games in 2880 resolution, will be made available in NBA Arena on Meta Horizon Worlds.
"Meta's immersive VR technology is opening up new opportunities for sports fans to engage and interact with their favorite NBA teams," said Meta Director of Sports Media and League Partnerships Rob Shaw. "The NBA is always pushing us to innovate and leverage the latest technology to open the door to new fan experiences, and this chapter of our partnership achieves exactly that."
As a result of the collaboration, customers of the NBA's Meta Avatars Store can show off their NBA gear on social media platforms like Instagram, Facebook, Meta Quest, and Messenger. Conversely, Meta will be promoted during NBA live events to highlight the virtual reality technology hub. This will ensure the continued success of the $370 billion tech giant in an increasingly competitive market.
Subscribe to the Metaverse newsletter
Leave your email below and get more info like this:
Disclaimer: Nothing on this site should be construed as a financial investment recommendation. It's important to understand that investing is a high-risk activity. Investments expose money to potential loss.