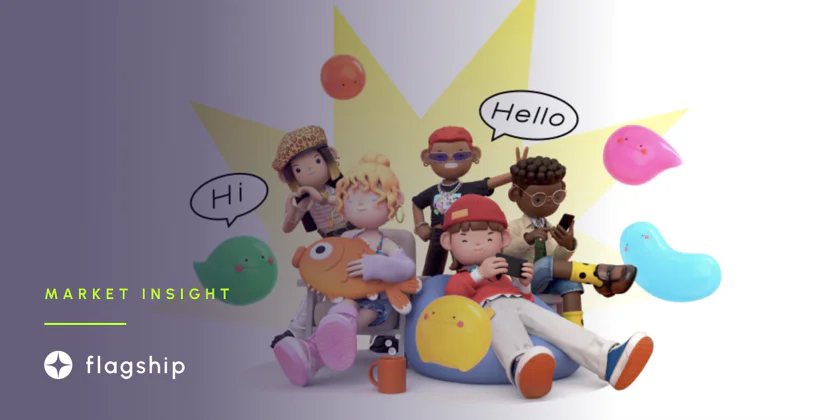 Are Trending Apps like Bondee the First Generation of Mainstream SocialFi?
Popular new social media applications such as Bondee are starting to integrate NFTs and potentially take the Metaverse mainstream. Is this a step in the right direction for decentralized social applications, or is it just more of the same with a few added perks?
---
Bondee is a Singapore-based social media app that has already gained substantial traction with over 1 million downloads in just over a week since it launched on January 17. In addition, it has secured the top spot for Social Networking in Singapore, Malaysia, the Philippines, and Thailand. Interestingly, hidden in its privacy policy is mention of a few keywords that we hear around these parts often, namely NFTs and Metaverse. But is this app the first sign of NFT and Metaverse gaining mainstream adoption in areas such as SocialFi, and if so, is this a positive signal of what's to come?
Bondee is a recently launched social media app that allows users to dress up avatars, decorate virtual rooms, and visit other users' virtual spaces. The app features include leaving notes on other users' rooms, chatting, lounging, dancing, and eating with other avatars. It also has a "floating" feature that allows users to explore the platform, meet new people, find messages in bottles and discover new virtual places.

The most interesting feature to me, however, is that it allows users to create a blockchain wallet from within the platform directly to purchase NFTs using B-Beans, which appears to be a reference to their in-app cryptocurrency. It is crucial that they get this step right because if they succeed, it could potentially onboard millions of new users to blockchain (even if they don't realize it). Of course, this raises the question, is Bondee the first mainstream SocialFi app? Is it truly an amalgamation of web3, decentralized finance (DeFi), and social media?
SocialFi was a relatively new and trending topic late last year. SocialFi combines social media concepts and DeFi to allow users to create, manage, and retain ownership of their content using underlying blockchain technology. As a result, influencers, content producers, and participants using this next generation of decentralized social apps will be able to:
Control their data
Monetize their engagement and followers more effectively
Benefit from increased security due to underlying blockchain integration
Demonstrate the provenance of their creations
Prove ownership of their digital assets to their networks
Part of the appeal for this new evolution of social apps comes from reimagining current social media networks that consistently violate data and privacy policies of their users, which has led to a general distrust towards such entities.
It is a bit hard to tell exactly how decentralized the Bondee app is at this stage, or how much it intends to be in the future once it has enabled its wallet integration. The current terms and conditions of Bondee are no different from most other Web2 applications in the sense that they allow them the right to collect, share and monetize users data for improving the platform.
This is somewhat disappointing, but not unexpected at this stage. I, personally, do not think this constitutes the full potential of what we could see with SocialFi and the combination of Web3, DeFi and Social Media, but I realize that to truly realize this we may first need decentralized hardware, app stores and mobile network providers before we can see truly open and decentralized applications.
It does appear to be a step in the right direction, as it offers a hybrid solution that allows its users, at the very least, to generate a blockchain wallet through its platform for the collection, purchase, and creation of digital assets. This in itself could see an onboarding of millions of app users to whichever blockchain they integrate with. This brings use to the next question.
They do mention in the privacy policy that the blockchain will be public, but they do not elaborate further on any details except that they will not store users private keys or seed phrases. To me, this suggests they may use an Ethereum layer 2. However, an opportunity exists for them to first build their player base, with no set chain in mind, and then see which chain is willing them to offer them the highest value.
It appears that the GameFi space could also have something to learn here about "stickiness". If you can create a fun and engaging app and prove its value through traction, downloads and users first, it may make the integration to blockchain more effective with higher financial incentives. Unfortunately, this does very little to help developers who need initial funding to get their app to this stage.
I do look forward to the app being available in my country, so I can play test it for myself. This will be most pertinent when the NFT features are fully integrated, so I can gain insight into how smooth the onboarding process is and update you all. Meanwhile, this app is company owned, has the ability to collect, share and monetize, user's personal information which is not ideal and therefore doesn't allow Web3's potential to fully shine here.
Subscribe to the Metaverse newsletter
Leave your email below and get more info like this:
Disclaimer: Nothing on this site should be construed as a financial investment recommendation. It's important to understand that investing is a high-risk activity. Investments expose money to potential loss.