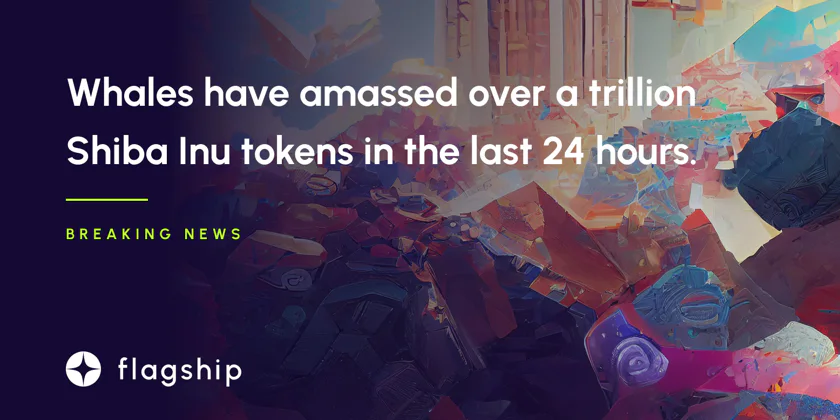 Whales have amassed over a trillion Shiba Inu tokens in the last 24 hours
The cryptocurrency market experienced a significant uptick as whales seized the chance to buy the dip. In the past 24 hours, whales have amassed over 1 trillion Shiba Inu tokens, and trading volume has surpassed 1 trillion.
---
The action is being taken as the World Economic Forum invites Shiba Inu to collaborate on the global policy as part of the metaverse (MV).
As a result, the price of SHIB has increased by almost 10% over the past day and is currently trading at $0.0000090.
Shytoshi Kusama, the leading developer of Shiba Inu, tweeted on November 23 that the World Economic Forum wanted to collaborate with Shiba Inu.
The community can now vote on whether Shiba Inu should collaborate with the World Economic Forum on metaverse policy thanks to a poll created by Shytoshi Kusama. "We would be at the table with policymakers and would help shape global policy for the MV alongside other giants like FB (bye Zuck), Sand, Decentraland, etc. And please don't ask my opinion; you already know."
Nearly 63% of respondents chose to collaborate with the World Economic Forum, citing growing adoption and SHIB opportunity. Most of the community agrees to complete the Shibarium upgrade first.
Whales amassed trillions of SHIB tokens as a result of the transaction. A whale recently purchased over 432.30 billion SHIB tokens, and another added 1.29 trillion SHIB tokens.
Additionally, over the last 24 hours, 134,952,334 SHIB tokens have been burned in 10 transactions. In actuality, ShibBurn reported a single burn of 127,821,443 SHIB tokens.
In the past day, the price of Shiba Inu (SHIB) has increased by almost 10%. The price of SHIB is currently $0.0000090. The 24-hour low and high are each $0.0000082, while the average is $0.0000090.
As whales accumulated trillions of SHIB tokens, trading volume increased by a record-breaking 7.2 million percent. Near $0.0000092, the SHIB price is encountering resistance. SHIB will easily reclaim the $0.000010 level if the price breaks through the level.
Disclaimer: Nothing on this site should be construed as a financial investment recommendation. It's important to understand that investing is a high-risk activity. Investments expose money to potential loss.