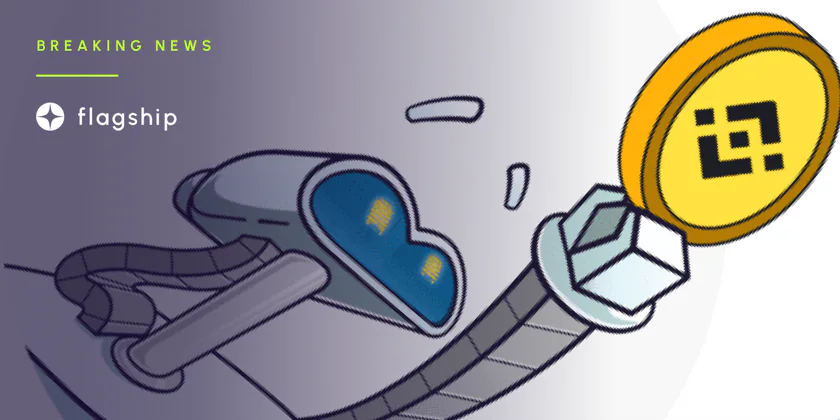 Ukraine's pharmacies accept Binance Pay
Amid the ongoing conflict with Russia, Ukraine has continued to adopt cryptocurrency payments with the crypto exchange Binance.
---
Subscribe to the Crypto News newsletter
Leave your email below and get more info like this:
Despite the ongoing war, a prominent Ukrainian pharmacy chain has begun accepting Bitcoin and other cryptocurrencies as payment. One of the largest pharmacies in the country, ANC Pharmacy, has joined forces with cryptocurrency exchange Binance Ukraine to accept payments through Binance Pay, a contactless crypto payment service. On January 3, ANC Pharmacy announced that it would begin accepting instant payments from customers purchasing pharmacy products online.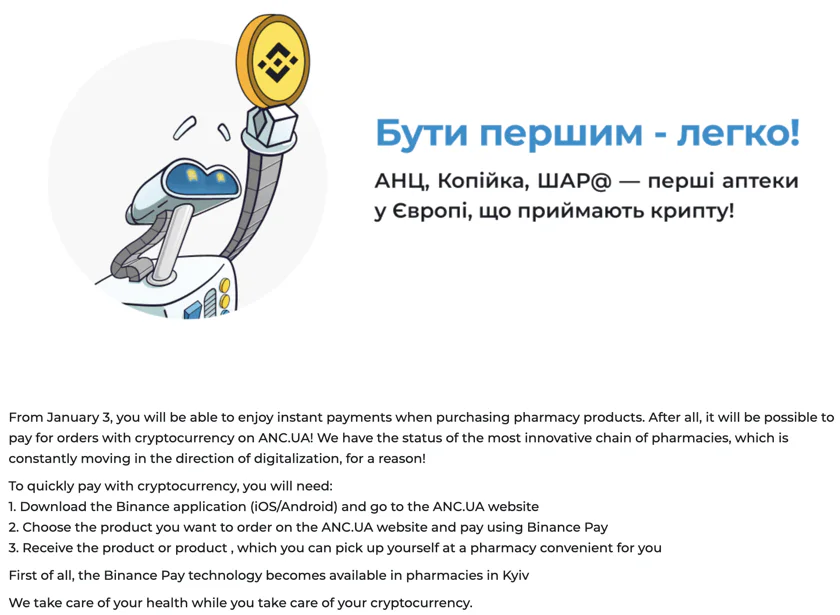 Over a thousand pharmacy chain locations in Ukraine provide online pharmacy services. The initial launch of Binance Pay for making payments has been announced and will take place in Kyiv. The new payment option can be used at any ANC Pharmacy location, including Kopiyka and Shara, also operated by ANC Pharmacy. In Europe, ANC, Kopiyka, and Shara are the first pharmacies to accept cryptocurrency, according to the release. Users must install the Binance app before visiting ANC's website to make a cryptocurrency payment. Customers can place an online order, pay with Binance Pay, and then pick up their purchase at a convenient location.

Over the past few years, Binance has made a concerted effort to expand its operations in Ukraine. Binance Pay Wallet will be accepted at all Varus stores in Ukraine in September 2022, thanks to a partnership between the two companies. Kirill Khomyakov, the general manager of Binance Ukraine, said in February 2022 that launching a Binance Card in Ukraine was one of the company's top priorities for the year. This was just weeks before Russian forces invaded Ukraine. Khomyakov claims that the use of Binance Card and other similar services to make cryptocurrency payments is not illegal in Ukraine because there is no prohibition on financial transactions involving cryptocurrencies.
Meanwhile, due to legal restrictions, Bitcoin and other cryptocurrencies are not accepted for direct payments.
Subscribe to the Crypto News newsletter
Leave your email below and get more info like this:
Disclaimer: Nothing on this site should be construed as a financial investment recommendation. It's important to understand that investing is a high-risk activity. Investments expose money to potential loss.