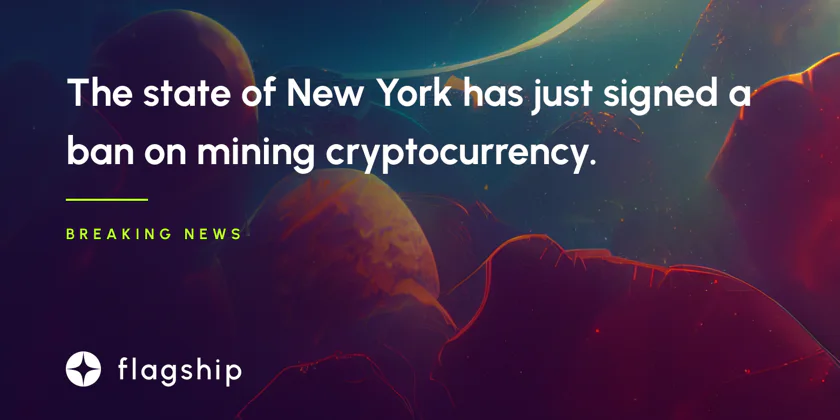 The state of New York has just signed a ban on mining cryptocurrency
In the United States, New York is the first state to halt cryptocurrency mining operations that use fossil fuels temporarily.
---
On Tuesday, Governor Kathy Hochul of New York signed into law a ban on "proof-of-work" (PoW) cryptocurrency mining operations for two years.
For the next two years, the law states that no new entrants or permit renewals will be granted to existing PoW mining operations unless they switch to using only renewable energy.
Here is a portion of the bill: The law will prohibit Environmental Conservation Law permits from being issued for two years to proof-of-work cryptocurrency mining operations operated through electric generating facilities that use carbon-based fuel.
The New York State Assembly initially passed the Bill in April, and the State Senate followed suit in June.
Hochul explained why she was pushing for the bill, saying it was a "key step for New York as we work to address the global climate crisis." She said she is excited to "ensure that New York remains the center of financial innovation while also taking important steps to prioritize the protection of our economy."
New blocks of cryptocurrency are "mined" by miners, who then receive a reward. PoW-based mining is essential to the crypto economy.
Still, its use has been criticized by environmentalists who worry about the negative impact it may have on the environment because it requires the use of powerful computers to solve complex mathematical equations to validate transactions.
Bitcoin, along with other prominent cryptocurrencies like Litecoin, Dogecoin, Monero, and Ethereum Classic, is all supported by a PoW consensus mechanism.
To reduce its energy consumption, the second-largest cryptocurrency Ethereum has switched from a proof-of-work (PoW) consensus mechanism to a proof-of-stake (PoS) model.
Hochul remarked on the duty of regulators to protect the environment, saying: I am signing this legislation into law to build on New York's nation-leading Climate Leadership and Community Protection Act, the most aggressive climate and clean energy law in the nation, while also continuing our steadfast efforts to support economic development and job creation in upstate New York.
Disclaimer: Nothing on this site should be construed as a financial investment recommendation. It's important to understand that investing is a high-risk activity. Investments expose money to potential loss.