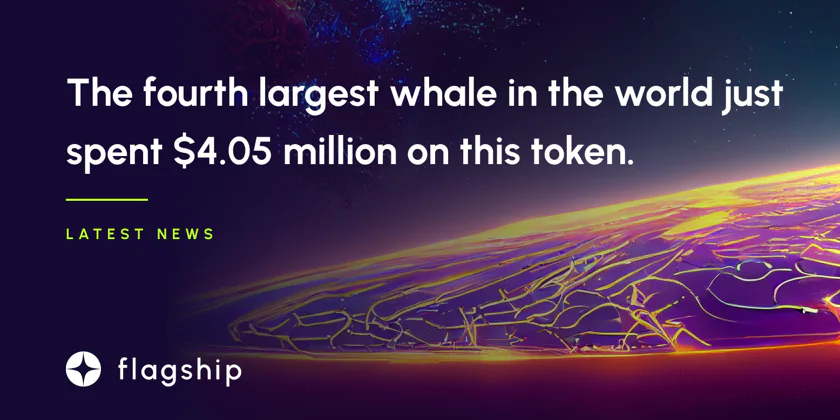 The fourth largest whale in the world just spent millions on this cryptocurrency token.
When the price of Dogecoin (DOGE) was getting close to a support level, the BNB whale "Sabo" bought 53,501,879 DOGE for $4.05 million.
---
Top whales keep accumulating more of their preferred cryptocurrency tokens as prices drop due to the failure of FTX. As the price drops, the fourth-largest BNB whale, "Sabo," has just purchased 53,501,879 Dogecoins (DOGE). The meme coin has rebounded over 2% in an hour.
Top BNB whale "Sabo," according to WhaleStats, spent $4.05 million on 53,501,879 Dogecoin on November 21. The whale's wallet currently contains DOGE holdings worth $5.79 million.
The wallet is worth more than $55 million, with the largest holding, Binance-pegged Bitcoin (BTCB), worth $24.89 million. Additionally, the second-largest holding, worth over $24 million, is an Ethereum token pegged to Binance.
The top 10 tokens purchased in the past 48 hours by the 100 largest BSC whales still include Dogecoin (DOGE). On the previous day, DOGE was also purchased by other whales.
After the FTX cryptocurrency exchange failed, the price of DOGE and other cryptocurrencies decreased. It is still strong, though, as profitability exceeds that of Bitcoin and Ethereum. The price of DOGE is currently $0.076, down 7% over the previous day. The price has since risen from the $0.074 support level, though.
Additionally, the trading volume increased by almost 80%. The low and high for the past 24 hours are $0.074 and $0.082, respectively. Whales of Dogecoin are using the buy-the-dip strategy to profit from low prices.
According to a survey conducted by the cryptocurrency education-focused platform Coin Kickoff, Dogecoin (DOGE) investors are the least concerned about the current market downturn.

Dogecoin has the potential to be Twitter's cryptocurrency of choice as well. DOGE soared to $0.15 a week after Elon Musk's tweets about possible Dogecoin integration into Twitter.
However, in the wake of the FTX crisis, DOGE is still losing ground. During the mess, the price of DOGE reached $0.072. Investors in Dogecoin are still confident that Elon Musk will add Dogecoin to Twitter.
If Elon Musk integrates the meme token into Twitter, experts predict that the price of DOGE could reach $1.
Disclaimer: Nothing on this site should be construed as a financial investment recommendation. It's important to understand that investing is a high-risk activity. Investments expose money to potential loss.