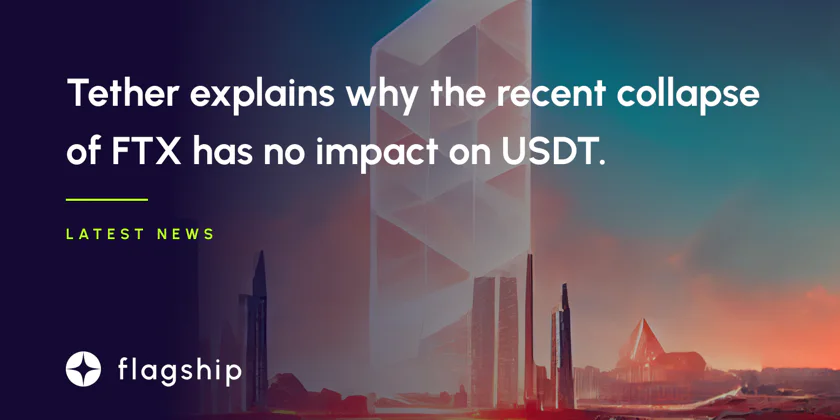 Tether, the stablecoin issuer, explains why the recent collapse of FTX and Alameda has no impact on USDT.
The largest stablecoin issuer in the world, Tether, has issued a statement assuring investors that the collapse of cryptocurrency exchange FTX and its trading arm Alameda Research has no impact on USDT.
---
Tether claims in a recent blog post that there has been talk about whether the demise of the trading company Alameda poses a risk to Tether because it was a significant issuer of USDT.
According to Tether, the fact that Alameda is an issuer of USDT indicates that Alameda sent USD to Tether initially and received USDT in return. Alameda's current only choice is to send back USDT to Tether to receive payment in USD.
"Those reserves are still in Tether's possession; they are not on Alameda's balance sheet. The collateral backing Alameda's USDT is not on Alameda's balance sheet. What can Alameda do with their USDT? Their only option is to redeem any USDT they have for USD via Tether's redemption facility. This is the same as any other USDT holder around the world…
Tether has no outstanding loans of USDT, of Tether's reserves, or of any other funds whatsoever. The main problem countless other companies are facing is that they recklessly lent Alameda various assets relying on extremely illiquid collateral. Since Alameda cannot repay those loans at this time, those companies have a hole on their balance sheet. This is not how USDT issuance works, and is not behavior Tether engaged in with Alameda in any way."
The Hong Kong-based business also comments on the decision made by several cryptocurrency exchanges to stop accepting USDT deposits on the Solana (SOL) blockchain. Tether claims that this has no impact on it either.
"USDT issued on Solana is the same as USDT issued on any other chain. The token simply represents a claim to $1 of Tether's reserves and collateral. Alameda's heavy involvement in Solana doesn't impact the underlying dynamics of how USDT functions and USDT issuance works whatsoever.
The move to suspend USDT deposits on these exchanges is likely just due to the heavy connections between FTX, Alameda, and Solana. If holders of USD? want to redeem USDT with Tether, they still can. USDT on Solana is equivalent to USDT on any other Blockchain; it is not issued by Solana and is not reserved by Alameda or FTX."
Moving cryptocurrency assets from one blockchain to another is a process known as a chain swap. Tether claims that if an exchange has a surplus of funds on one blockchain but a deficit on another, it may request chain swaps.
Disclaimer: Nothing on this site should be construed as a financial investment recommendation. It's important to understand that investing is a high-risk activity. Investments expose money to potential loss.