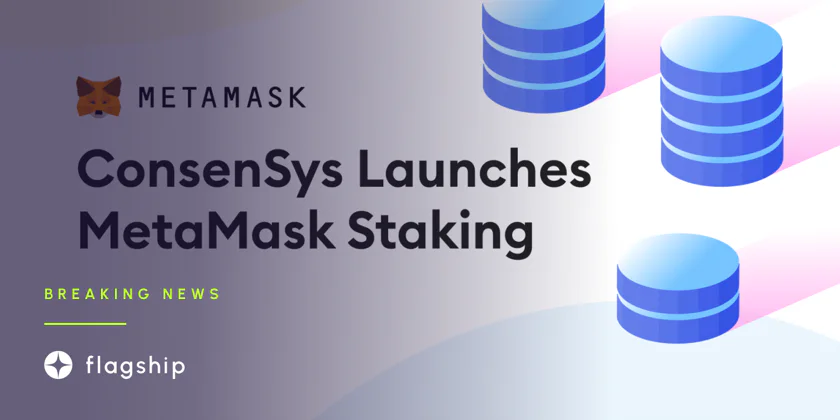 MetaMask introduces liquid staking in dapp
For an easy and convenient way to stake ETH, Portfolio Dapp now allows users to stake tokens with Lido and Rocket Pool
---
Subscribe to the Crypto News newsletter
Leave your email below and get more info like this:
We're kicking off 2023 with MetaMask Staking, our newest feature in the Portfolio Dapp. You can now stake your ETH through MetaMask with liquid staking providers, Lido and Rocket Pool.
The dapp's burgeoning list of features since its inception only a few months ago includes:
Portfolio View: Aggregate your multi-chain token balances and NFTs across multiple accounts
Bridges: Transfer assets across different networks
Swaps: Swap tokens within the convenient and simple interface across multiple networks
And now staking!
Simply click the "Portfolio site" link in your Extension's home screen to get started, or head on over to portfolio.metamask.io/stake in your MetaMask Mobile in-app browser.
To learn more about staking, check our in-depth guide out here.
If this is your first time staking, don't worry, we make it easy with this feature. You can stake and view your rewards directly in the dapp without having to leave.
In the context of Ethereum, staking is the act of securing the network by "depositing" or "locking up" your tokens into a smart contract and receiving rewards in return. This is typically done in 3 ways:
Liquid staking
Solo staking
Custodial staking
MetaMask Staking allows you to engage in liquid staking with two prominent providers, Lido and Rocket Pool, whereby you can deposit your ETH and receive a token representing the value of your stake in return. While the end result of liquidity staking is basically the same, how it works (the token issued in exchange for staking your assets) differs across providers.
Lido issues stETH in exchange for ETH; Rocket Pool issues rETH in exchange for ETH.
Lido's stETH is a rebasing token that accrues rewards by increasing the amount of stETH owned over time; Rocket Pool's rETH is a repricing token that accrues rewards by increasing the amount of ETH that rETH is redeemable for.
Users either choose to hold on to this stETH/rETH token for when they would like to withdraw their stake (not currently available until future network upgrades), use it as collateral in DeFi, or even swap it for another token (back to ETH or another ERC20).
Note: MetaMask Staking provides the interface to connect with Lido and Rocket Pool smart contracts directly—we don't provide the staking service ourselves.
Visit portfolio.metamask.io
Toggle to the staking tab to choose your desired staking provider and click "Stake"
Enter the amount you want to stake and click "Review"
Review your stake and click "Confirm"
Sign the transaction in your wallet
When your transaction is complete, click "View holdings"
In this post-Merge world, there is a growing demand for simple staking services that will ultimately secure Ethereum. Whether you're a seasoned staker or a sideline watcher, MetaMask Staking offers an intuitive way to jump in and stake your ETH for rewards.
Subscribe to the Crypto News newsletter
Leave your email below and get more info like this:
Disclaimer: Nothing on this site should be construed as a financial investment recommendation. It's important to understand that investing is a high-risk activity. Investments expose money to potential loss.