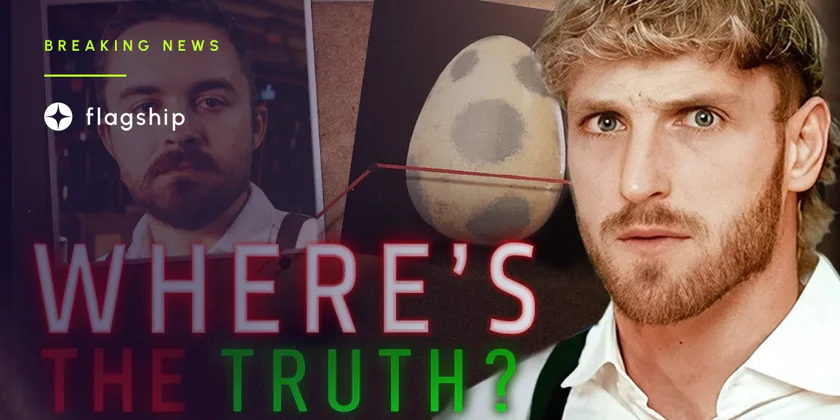 Logan Paul denies Coffeezilla "scam" claims, threatens legal action
Logan Paul finally responded to Coffeezilla's claims that the CryptoZoo project was a "scam," saying the YouTube journalist made "very real errors" and that legal action would be taken against him.
---
Subscribe to the Crypto News newsletter
Leave your email below and get more info like this:
Overview:
Logan Paul accuses Coffeezilla, a YouTube investigator, of fabricating information in a three-part series on Paul's alleged scam
Coffeezilla reportedly has a history of unreliable reporting and an agenda
Paul cites several discrepancies in Coffeezilla's investigation, including the use of untrustworthy sources and the spreading of false information
Errors in Coffeezilla's Investigation:
Coffeezilla interviewed Zach Kelling, the developer who stole Paul's game code and demanded a ransom of $1 million but failed to disclose Kelly's criminal history and track record of lying
Coffeezilla interviewed Emilio, a man who claimed his child invested in a cryptocurrency but failed to mention Emilio's history of rug pulls
Coffeezilla spread false information about the abilities of Paul's in-game animals, specifically their ability to hatch eggs
Coffeezilla illegally recorded a phone call with Jeff and published it online without his permission
Defamation and Legal Issues:
Paul accuses Coffeezilla of defamation and spreading false information
Paul cites Coffeezilla's lack of verification and substantiation of evidence in the investigation
Paul highlights the blockchain as a reliable source of information, as it cannot be tampered with like Coffeezilla's reporting
Paul considers taking legal action against Coffeezilla for defamation and illegal recording
Paul's Final Take:
Paul urges the public to consider the sources and validity of information before believing it
Coffee Zilla is a journalist who has been accused of using sensationalism and clickbait for financial gain rather than producing impartial and accurate work
Zilla relied on unreliable sources, including individuals with criminal histories and agendas, and failed to verify their backgrounds or evidence
Despite these issues, Zilla chose to publish the defamation rather than verify and substantiate the information
Zilla's actions and lack of journalistic integrity have damaged his reputation and credibility
Journalists must maintain impartiality and accurately verify and substantiate the information to produce reliable and trustworthy work
Coffeezilla, a well-known YouTuber best known for demystifying cryptocurrency frauds, recently published a three-part series on Logan Paul's CryptoZoo project and its purported demise. Since then, Paul has defended himself against a barrage of criticism while the two traded blows on social media. Finally responding in full, the founder of CryptoZoo threatened legal action against Coffee for allegedly spreading false information and making an "illegal recording" of his manager Jeff Levin in a seven-minute YouTube video he posted on January 3.
"You have used my name for views and money...your addiction to clicks has clouded your judgment and you've made very real errors with very real repercussions. [Coffeezilla has continued] to morph from an investigator to a gossip channel. He is a lopsided journalist with an agenda."
Paul set out to refute any assertions about the principal developer of CryptoZoo. Coffee identified this engineer in his videos using the straightforward codename "Z" as Zack Kelling, a man with a history of arrests. Kelling is accused of "lying" to Coffee about the size of the crypto project. The team at CryptoZoo "only had three engineers" working on it, not the thirty Kelling claimed.
Paul then refuted assertions that the entire "zoo" component of his cryptographic project had never actually operated. For example, coffee learned during his investigation from a specific investor that those who invested supposedly couldn't hatch their eggs to evolve new creators and try to capture rare NFTs. Paul responded, "One second of research would show that to be false. It is undoubtedly possible to hatch eggs and even breed animals." This confirmation was provided with a video from the project and others streaming their responses to different egg openings.
Paul continued by threatening legal action against Coffeezilla in response to his alleged false information. But the potential legal dispute is more complicated than that. The promotion of an "illegal recording" was one issue Paul's team had with the three-part YouTube series. In addition, a significant portion of an allegedly private phone call between Coffee and Paul's manager Jeff Levin was made public during the investigation. Paul is prepared to go further and file a lawsuit against the YouTube detective because he thinks this violated the law.
"I suggest you use the money from your Patreon to hire a good lawyer, you're gonna need it. See you in court."
A short while after the video response went live, Coffeezilla returned to Twitter. He initially looked to focus on a communication breakdown with Paul instead, saying he would provide a more thorough response in due course.
"Logan accuses me of not reaching out to him directly until Dec 24, 2022… but doesn't mention I reached out over a year prior on Instagram," according to Coffee.
Subscribe to the Crypto News newsletter
Leave your email below and get more info like this:
"If you expect me to see every DM that comes through from every social media gossip channel trying to make a name for themselves, you're ridiculous," according to Paul.
Disclaimer: Nothing on this site should be construed as a financial investment recommendation. It's important to understand that investing is a high-risk activity. Investments expose money to potential loss.