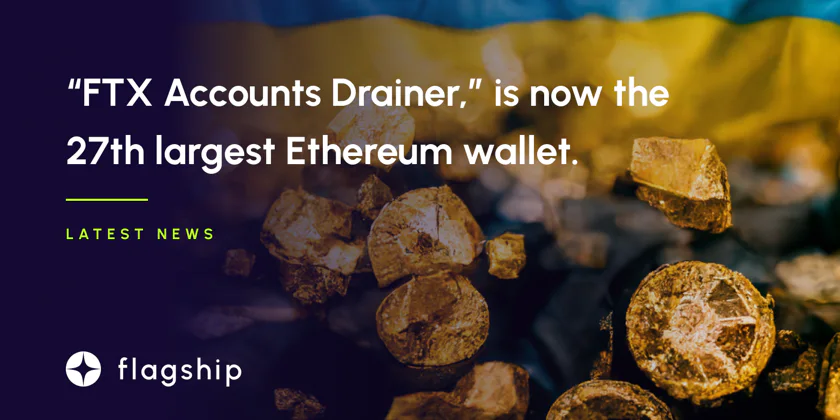 FTX Accounts Drainer is now the 27th largest Ethereum wallet, holding over 250,000 ETH.
The Ethereum address known as the "FTX Accounts Drainer" or "0x59a" has drawn attention because it is linked to the organization that siphoned off millions of dollars worth of tokens from FTX just hours after the company declared bankruptcy.
---
The exploiter who stole Ethereum and ERC20 tokens worth millions of dollars from FTX has increased the amount of ether in their possession. In terms of Ethereum holdings, the wallet is currently ranked among the top 30 most prominent wallet positions.
On Saturday, November 19, 2022, there were 250,735 Ethereum stored at the address known as the "FTX Accounts Drainer."
Ethereum stash is consolidated, adding 22,212 ether to the enigmatic wallet.
On November 12, 2022, the blockchain monitoring company Elliptic published a report on the matter, estimating that the subject siphoned about $477 million. Following Elliptic's blog post, Bitcoin.com News reported on November 15, 2022, that the address known as "FTX Accounts Drainer" also collected a sizable ether cache.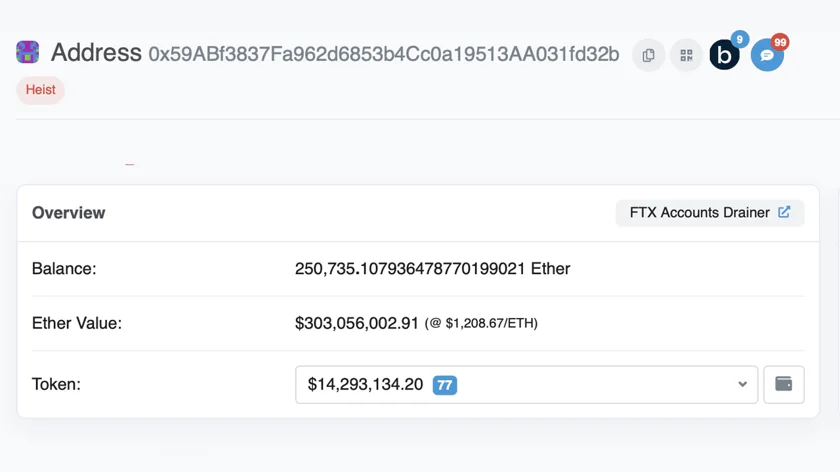 The wallet has experienced 688 transactions, some of which are dust transactions sent by unidentified parties, valued at $303 million. The exploiter has another known address in addition to the 250,735 Ethereum held by the "FTX Accounts Drainer" or "0x59a."
They stored a sizeable quantity of ERC20 tokens linked to the FTX exchange at the Ethereum (ETH) address "0x97f." The wallet contains over a hundred ERC20 tokens, and according to blockchair.com, it is worth about $191.69 million.
The tokens are worth, according to Etherscan.io, about $244 million. FTT, the coin issued by FTX, has the largest market cap in the wallet, with "0x97f" holding about 45.85 million FTT tokens. The address currently holds 13.94% of the total FTT supply in circulation, making it the second-largest FTT wallet.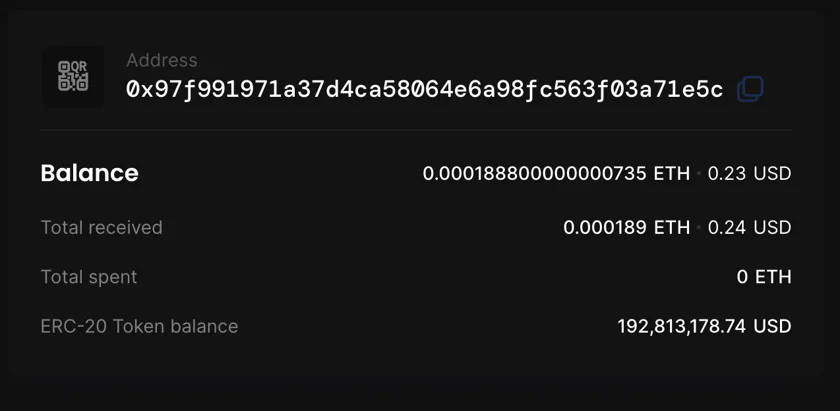 In addition, the wallet has 143.88 million BOBA coins from the Boba Network project, making it the second-largest supply of circulating BOBA since it holds 28.78% of the total. The wallet is the third largest holder of unus sed leo (LEO), making the address "0x97f" one of the largest LEO holders today, after Bitfinex.
The address is the second-largest SRM holder with 52.93 million SRM, accounting for 20.28% of the total supply. With 0.35% of the supply, the wallet is ranked 40th among decentraland (MANA) wallets. The wallet holds 0.44% of the total graphs supply (GRT), making it the 32nd largest GRT holder.
Disclaimer: Nothing on this site should be construed as a financial investment recommendation. It's important to understand that investing is a high-risk activity. Investments expose money to potential loss.