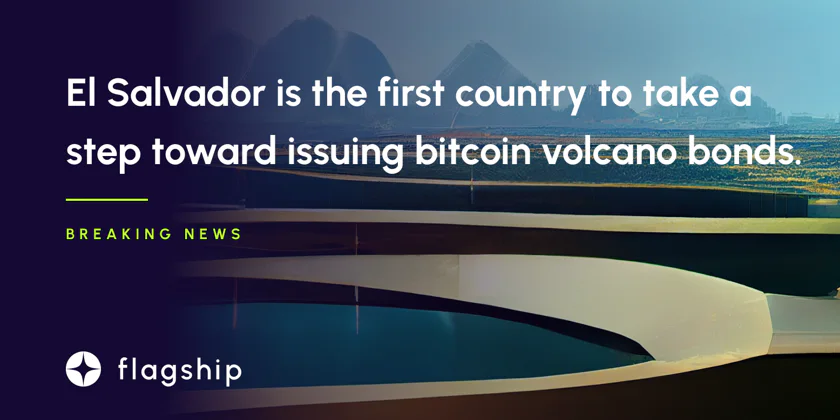 El Salvador is the first country to take the first step toward issuing bitcoin volcano bonds
A bill pertaining to digital securities has been submitted to El Salvador's Congress, opening the door for the issuance of bonds backed by bitcoin.
---
The introduction of the nation's bitcoin-backed "volcano" bonds was made possible by submitting a bill authorizing the issuance of digital assets by El Salvador's Minister of the Economy, Maria Luisa Hayem Brevé.
Today's innovative project aims to draw capital and investors to El Salvador. Plans to issue $1 billion in bonds on the Liquid Network, a federated Bitcoin sidechain, were made public then.
They would split proceeds from the bonds between a $500 million direct allocation to bitcoin and an investment of the same amount in developing the area's energy and bitcoin mining infrastructure.
A sidechain is a separate blockchain that operates in tandem with another blockchain. It enables the safe use of tokens from the main blockchain while adhering to different guidelines, performance standards, and security measures.
With a two-way peg, Liquid's sidechain for Bitcoin enables bitcoin to move between the Liquid and Bitcoin networks. L-BTC is a symbol for bitcoin that is used on the Liquid network.
The network's users, known as functionaries, manage and secure its verifiably equivalent amount of Bitcoin.
El Salvador will be able to serve as the financial hub of Central and South America thanks to the adoption of digital securities law, wrote Paolo Ardoino, CTO of cryptocurrency exchange Bitfinex, on Twitter.
To process and list the bond issuance in El Salvador, Bitfinex will soon receive a license.
Investors can obtain citizenship quickly through the bonds, which will yield 6.5%. Once the initial $500 million has been monetized, the government will distribute half of the additional gains to investors as a Bitcoin Dividend.
The asset management platform of Blockstream will distribute these dividends annually.
The first significant step before we can issue the bonds is the bill's submission, after that comes approval, anticipated to occur before Christmas; according to a source close to President Nayib Bukele, quoted in Bitcoin Magazine, the proposal was made on November 17 and was made available today to the nation's Congress.
Disclaimer: Nothing on this site should be construed as a financial investment recommendation. It's important to understand that investing is a high-risk activity. Investments expose money to potential loss.