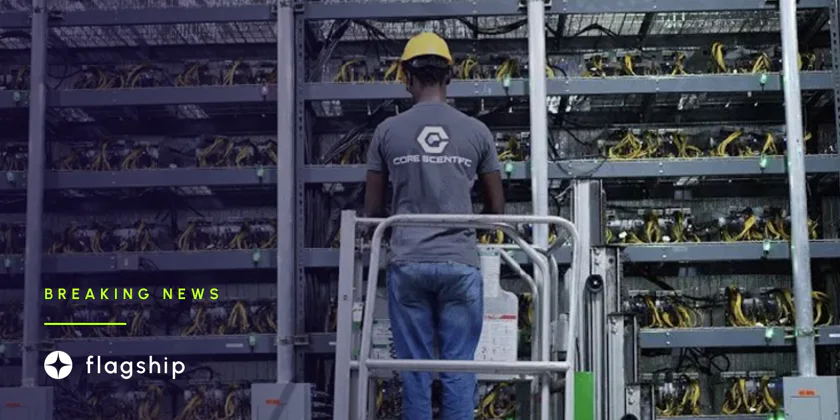 Core Scientific, Bitcoin Miner, to File Chapter 11 Bankruptcy
According to reports, Core Scientific, a Nasdaq-listed Bitcoin mining company, has applied for Chapter 11 bankruptcy protection in a Texas court.
---
Subscribe to the Crypto News newsletter
Leave your email below and get more info like this:
According to someone who knows the situation, Core Scientific, one of the biggest Bitcoin miners in the industry, will reportedly file for Chapter 11 bankruptcy protection in Texas on Wednesday. According to the report, Core Scientific will not go bankrupt and will continue business as usual while negotiating with senior security noteholders who hold most of the company's debt.
The announcement coincides with a bear market that has seen Bitcoin's price fall more than 60% year to date. This, along with rising energy costs and the asset's increasing mining difficulty, which this week increased by an additional 3%, means that miners must devote more resources to produce the same number of coins as before. The Austin-based business announced in July 2021 that it would float through a special purpose acquisition vehicle, or SPAC, and list its stock on the Nasdaq in January 2022. But as of now, in 2022, Core Scientific's stock has fallen 98%. Although the business is still making money, it is said that its obligations for financing equipment far outweigh its income. Market capitalization for the company dropped from $4.3 billion in July of last year to $78 million at Tuesday's closing bell.
The business, which also operates in North Dakota, North Carolina, Georgia, and Kentucky, first issued a bankruptcy warning in October of this year while stating that it was looking into various alternatives.
"Given the uncertainty regarding the Company's financial condition, substantial doubt exists about the Company's ability to continue as a going concern for a reasonable period of time," Core said.
According to court documents from bankrupt cryptocurrency lender Celsius, Core Scientific is owed millions of dollars in unpaid electricity tariffs. The company claims it is losing about $53,000 daily because Celsius won't pay.
One of Core Scientific's top lenders, B. Riley, made the company a $72 million offer earlier this month, claiming that bankruptcy "is not at all necessary" and that the majority of the company's problems are self-imposed and can be resolved with an ongoing, open dialogue with its lenders and investors. The investment bank put forth a new financing strategy that gave Core Scientific favorable terms on non-cash payment funds with more than two years to reach profitability.
Although Core would be the first publicly-traded company to declare bankruptcy, it is not the first company to succumb to the turmoil in the sector. Compute North, a company that operates data centers for bitcoin mining, declared bankruptcy in September, claiming it owed at least 200 creditors up to $500 million. Rival businesses Riot Blockchain (RIOT) and Marathon Digital Holdings (MARA) are surviving despite having stock declines of 83% and 88%, respectively, this year.
Subscribe to the Crypto News newsletter
Leave your email below and get more info like this:
Disclaimer: Nothing on this site should be construed as a financial investment recommendation. It's important to understand that investing is a high-risk activity. Investments expose money to potential loss.