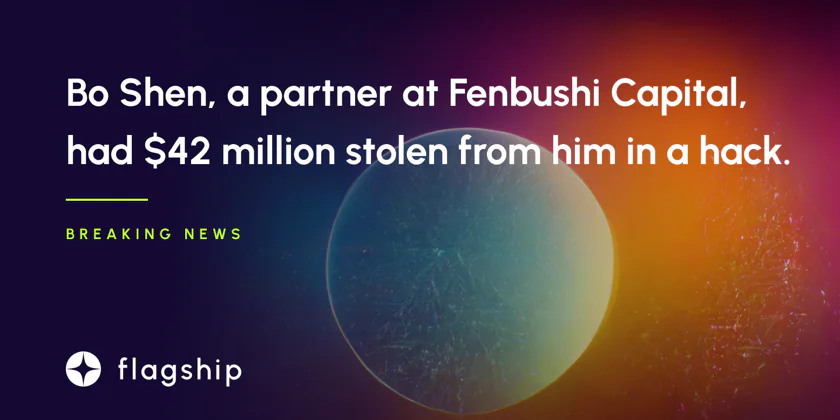 Bo Shen, a partner at Fenbushi Capital, had $42 million stolen from him in a hack
Bo Shen, a venture capitalist in the cryptocurrency space, said that $42 million was stolen from his Ethereum wallet. Beosin, a blockchain security company, speculated that a stolen private key was to blame for the exploit.
---
Bo Shen, a founding partner at Fenbushi Capital, claimed that an incident on Nov. 10 resulted in the theft of various crypto assets valued at $42 million from his private crypto wallet.
About $38 million worth of the tokens were purchased with the stablecoin USDC. According to on-chain data from the wallet, the remaining stolen assets included tokens for tether (USDT), uniswap (UNI), reputation (REP), and liquity (LQTY).
"A total of 42M worth of crypto assets, including 38M in USDC, were stolen from my wallet ending in 894 in the early morning of November 10 EST," Shen stated on Twitter.
Shen claimed he informed the appropriate law enforcement authorities about the exploit. He clarified that the stolen property was personal money, distinct from Fenbushi and its affiliated companies.
Beosin, a blockchain security company, confirmed the exploit occurred and stated a "private key compromise probably caused it." After gaining unauthorized access to the wallet, the hacker transferred all of its assets to two Ethereum addresses they controlled, Beosin continued.
Disclaimer: Nothing on this site should be construed as a financial investment recommendation. It's important to understand that investing is a high-risk activity. Investments expose money to potential loss.