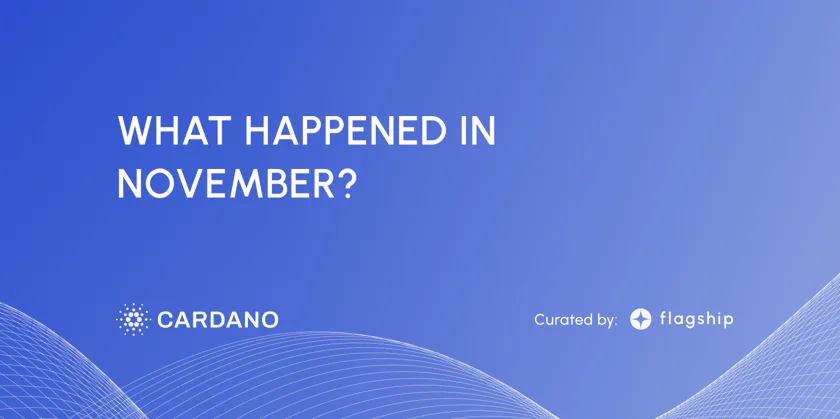 Cardano Monthly Report - November 2022
Here is a recap of all the latest news from the Cardano ecosystem in November
---
November will be remembered as the month Cardano came together. With 50+ Cardano events across the globe and the main summit in Switzerland, the community came together. Many used this as an opportunity to share big news, and the projects did not disappoint. We had three stablecoin announcements, RealFi projects making a real-world impact, and side-chain developments from the IOG team.

We also had one high-profile project go under, reminding us that the bear market will definitely have its casualties. Now more than ever, it is critical to DYOR and choose projects with clear use cases and an experienced team who can navigate this Crypto winter.
In one weekend, the native stablecoin space went from 0 confirmed tokens to 3; we had the launch of USDA, a regulated fiat-backed USD stablecoin from Emurgo. A synthetic version of USD, namely iUSD, was launched by Indigo, and the confirmation of a launch date for Djed, Coti's algorithmic stablecoin.
With so many options soon to be available, I took the time to review the options in a stablecoin-focused outpost which you can read here
Unfortunately, it wasn't all good news in the stablecoin space as Ardana a project also working on a stablecoin, announced they would halt development. Ardana had received significant funding from the community as well as support from 3AC. As is often the case, there are some in the community who are calling foul.

The team is leaving the code open source and offering to transfer what is left of the treasury to anyone who can confidently take the project on, so let's see where the story goes.
Subscribe to Flagletter
Get content like this in your inbox
In his keynote at Scotsfest, Charles Hoskinson shared the news of Midnight, a privacy-focused Cardano sidechain with its token, namely $DUST.
I'll be diving deep into what we know about Midnight next week, so keep an eye out for that. In the meantime, you can see the presentation from Charles below.
Cardano projects continue to work on real-world use cases for blockchain technology.
Decentralized internet provider World Mobile welcomed their first paying B2B customers in Zanzibar. With their first B2C customers before the end of the year. In addition, they expect their first Aerostat to be launched this year.
Immunify.life launches their first study in Kenya focused on HIV/AIDs. You can read more about the study here. Immunify.life have just opened their token sale so I'll be doing a deep dive into the project to evaluate if this is something the Flagship community may want to consider.
As mentioned in my Cardano Summit recap, Empowa* also signed an agreement with the local municipality in Mozambique to deliver 25 000 homes. You can read more here

*a reminder that I am an active member of the Empowa team
Snoop Dogg appeared on YouTube in a 2-minute music video for his son Champ Medici. The video featured characters from the Clay Nation universe. It's important to note that Snoop Dogg's son goes by the alias Champ Medici, which is a tribute to his bored ape NFT. As a result, the number of exchanged NFTs in the collection increased following the video's release. With an average sale value of 4,120 ADA ($1 286), since the video launched, volumes have exceeded 100,000 ADA, or $31,212.
Cardano's top NFT projects continue to perform well for the second month in a row. With this sustained interest in Cardano NFTs, could we see Cardano slowly becoming the next significant challenger to Ethereum's NFT dominance?
After my few days in Switzerland meeting with the founders of many of Cardano's top projects, I left feeling bullish on the ecosystem. While ADA has been down significantly over the past 30 days, I do get the sense the ecosystem is quietly building in the background. If what they have promised is delivered, we may see ADA rebound significantly during the next bull market.

If you are looking to stay up to date with the latest Cardano news, and Discord isn't your thing, you'll be happy to know Flagship has launched a Telegram channel, which you can join here.
Disclaimer: Nothing on this site should be construed as a financial investment recommendation. It's important to understand that investing is a high-risk activity. Investments expose money to potential loss.