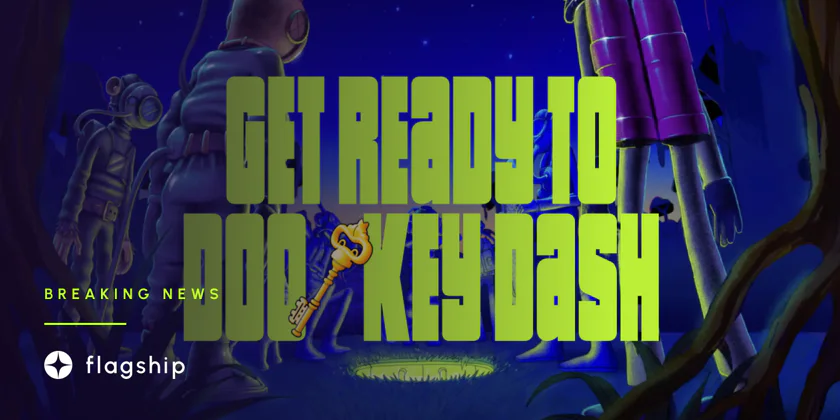 Yuga Labs Details Upcoming BAYC Project Mint
New information about an upcoming project has been revealed by Yuga Labs, prompting BAYC members to get ready for a "skill-based minting experience"
---
Subscribe to Flagletter
Get content like this in your inbox
Those with BAYC or MAYC can start claiming their free Sewer Pass NFTs on January 17th (including any who might obtain one via secondary). They can participate in the skill-based "Dookey Dash" challenge with this pass.
The "Dookey Dash" kicks off the multi-week interactive mint event on January 18; the event wraps up on February 8. When Yuga Labs announced The Trial of Jimmy the Monkey in December, it sent shockwaves through the NFT community.
The news came in the form of a short film that told the curious yet whimsical tale of a key, a chest, and time-traveling apes and was intended to usher in a new era in the BAYC universe.
The NFT community has been trying to make sense of the clues left by Yuga Labs on MDvMM.xyz, a website set up to monitor the company's growth, but as of today, more concrete details have emerged.
Yuga has announced a skill-based game challenge tied into the Jimmy the Monkey story arc, even though he had previously promised a guide.
The "Dookey Dash" minting experience, hosted by Yuga in the Bored Ape Yacht Club's drains, will officially begin on January 18. Users without a Sewer Pass, an NFT available for the free claim on January 17 for any BAYC or MAYC owner, will not be able to participate in the experience. Although only members of the BAYC community are allowed to make a claim, anyone who buys a Sewer Pass on the secondary market can participate in the event.
On February 8th, the Sewer Pass claim and the Dookey Dash will end. You can play as often as you like during the window, but Yuga said in a tweet that you need to "play at least once and score more than 0 to validate a Sewer Pass."
On February 15, after the skill-based minting experience is finished, valid Sewer Passes can transform into what Gary the Dog Prophet (a newer character in the BAYC realm) calls a "power source."
Users need to play the game — which is scored based on what a user collects in the sewer, the obstacles they destroy, and the length of time they survive — to figure out what these mysterious power sources are.
Subscribe to Flagletter
Get content like this in your inbox
Disclaimer: Nothing on this site should be construed as a financial investment recommendation. It's important to understand that investing is a high-risk activity. Investments expose money to potential loss.