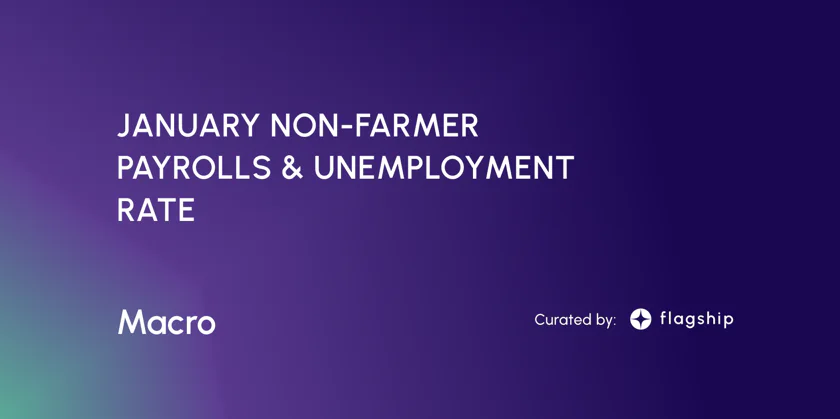 January Non-Farmer Payrolls & Unemployment Rate
After a week of soft landing talk by central bankers, the US jobs report revealed a strong US economy that may lead to a rethink of monetary policy plans.
---
Unemployment has become one of the biggest trends in the crypto space. All the great traders and NFT connoisseurs have become unemployed, but also the unemployment rate contributes to the current Macro environment. A high unemployment rate could persuade the Federal Reserve to pivot its hawkish stance. A low unemployment rate means that the Federal Reserve needs to contract the economy more and has no need to shift its stance.
The US non-farm payroll employment saw a significant increase of 517,000 jobs in January, surpassing the expectation of 193,000. This growth was driven by gains in several sectors, including leisure and hospitality, professional and business services, and health care, as the Bureau of Labor Statistics (BLS) noted.
In addition to job growth, the unemployment rate in the US also showed a decrease from 3.5% to 3.4%, better than the expectation of an increase back to 3.6%. This decrease in the unemployment rate is a positive indicator of the job market's strength. Furthermore, the labor force participation rate also increased slightly from 62.3% to 62.4%, demonstrating an increase in the number of people actively seeking employment.
On the wage front, average hourly earnings rose 0.3% month-on-month, which met the expectation. Furthermore, over the past 12 months, average hourly earnings have increased by 4.4% year-on-year, demonstrating a steady increase in the overall wage levels in the country.
Subscribe to the Macro newsletter
Leave your email below and get more info like this:
The US job market continued to show improvement in January, with significant job growth and a decreased unemployment rate. The increase in wages, although modest, is also a positive sign for the economy. This data is very significant to Jerome Powell. Inflation has currently peaked (for now), and Powell has decided to turn his focus to the job market. Well, the job market is super strong and is showing no signs of weakness. With the Federal Reserve's focus on the job market, there are no signs of pivoting.
Join the Flagship community and secure your financial future with the guidance of our Captain Crunch.
Disclaimer: Nothing on this site should be construed as a financial investment recommendation. It's important to understand that investing is a high-risk activity. Investments expose money to potential loss.