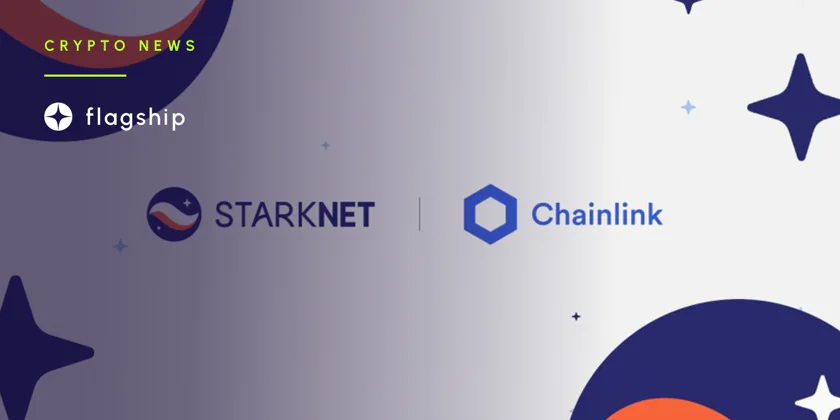 A StarkWare and Chainlink partnership will advance StarkNet adoption
StarkWare has also joined Chainlink SCALE, and Chainlink's price feeds are now available on StarkNet. The collaboration allows for more remarkable growth and adoption of Web3 services and products on StarkNet.
---
Blockchain oracle network Chainlink Labs, the company behind Chainlink, has partnered with the STARK-based Ethereum scaling platform StarkWare (website). The platforms noted in a statement that as a result of their cooperation, Chainlink's Price Feeds are currently operational on the StarkNet testnet and will soon be implemented on the mainnet. In addition, the StarkWare team stated in a blog post on February 6 that partnering with Chainlink will aid in scaling the adoption of the Validity-Rollup layer-2 solution StarkNet.
The protocol provides scalability options for the Ethereum blockchain. StarkWare also formally joins the Chainlink SCALE program due to the partnership. The SCALE program, which stands for Sustainable Chainlink Access for Layer 1 and 2 Enablement, aims to advance the creation of blockchains and scaling options.
"We're excited to be joining the Chainlink SCALE program to provide our ecosystem of developers with access to the industry standard for oracle services, enabling a next-generation of globally scalable Web3 applications to be built on Starknet,"
StarkWare co-founder Eli Ben-Sasson said in a press release.
The project will see the use of the StarkNet native token STRK to pay for some expenses associated with running Chainlink oracle nodes. The intention is for a low-cost ecosystem to support the growth and long-term adoption of the permissionless layer-2 solution. With access to real-world data via Chainlink supporting app development and use, Starknet believes this project will be advantageous for both developers and users.
Over the past few months, StarkWare has grown rapidly, with the platform recording over 300 million transactions involving its products. Additionally, the network has registered well over 95 million NFT mints and settled more than $800 billion in digital asset transfers. On the other hand, Chainlink is a pioneer in Web3 services. Trillions of dollars' worth of transactions have been powered by the platform throughout the ecosystem, including those in DeFi, NFTs, insurance, and gaming.
Subscribe to Flagletter
Get content like this in your inbox
Disclaimer: Nothing on this site should be construed as a financial investment recommendation. It's important to understand that investing is a high-risk activity. Investments expose money to potential loss.