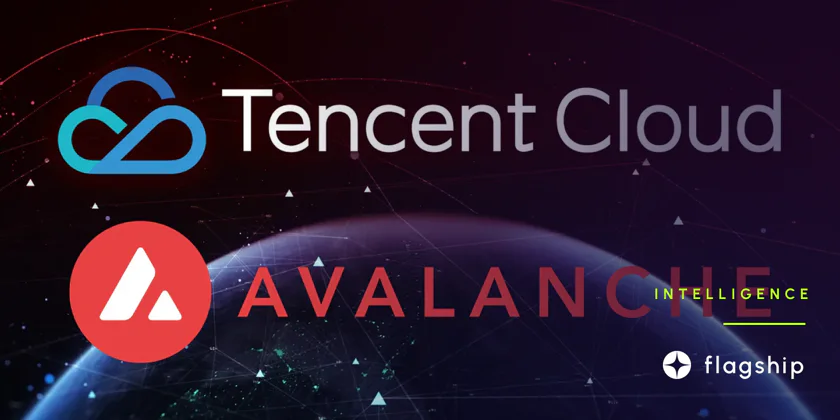 Avalanche Partners with Chinese FinTech Giant Tencent Cloud
A high-value partnership between Ava Labs and Tencent Cloud has been announced. This collaboration aims to bring the power of the Avalanche blockchain and its subnets to businesses across the Asia-Pacific region with rapid node deployment and customizable infrastructure.
---
Ava Labs, a platform designed for building applications and decentralized finance (DeFi) systems, has announced a strategic partnership with Tencent Cloud, a leading technology firm providing innovative solutions for businesses and consumers, to support projects and developers across the Avalanche ecosystem.
A full Avalanche node is now live on Tencent Cloud in sync with the Avalanche public blockchain as part of the partnership. This will enable Tencent Cloud's infrastructure to support efficient and rapid node deployment for developers and validators across the Asia-Pacific (APAC) region.
In addition to providing developers with rapid node deployment, both parties will explore Avalanche Subnets for enterprises to help accelerate the adoption of Web3 technologies across traditional businesses. Avalanche's novel Subnet technology enables enterprises to develop fully-customizable blockchain infrastructure purpose-built for their use case. This includes choosing who participates in network security, who can access the Subnet, which virtual machine it uses, fee economics, and more.
Ava Labs and Tencent also intend to co-host in-person and online conferences, education programs, developer meetups, and more to support Web3 builders and projects building on Avalanche, starting with a series of events at Tencent Cloud Day in Singapore.
The capabilities that Tencent and Avalanche will deliver are fascinating for game developers. Game studios require dedicated, high-performance infrastructure to support large-scale user bases, which the combination of Tencent Cloud and Avalanche can provide. In addition, with Avalanche, developers can build confidently, knowing users will experience near-instant transaction finality to ensure the low-latency experience they expect from modern games.
According to Ed Chang, Head of Gaming at Ava Labs, "The capabilities that Tencent and Avalanche will deliver are incredibly exciting for the future of games built on blockchain. Tencent is a global powerhouse in both the gaming and infrastructure space, and this collaboration opens the door to building truly incredible Web3 gaming experiences."
Wilson Wu, Avalanche's Asia Growth lead, said, "Avalanche is the premier platform for both individuals and institutions to build Web3 applications and infrastructure. With Tencent's support behind the Avalanche ecosystem and its builders, we will push the boundaries of what is possible."
Tencent Cloud's support in building the Web3 ecosystem on Avalanche and its subsequent technology developments will help to further fuel innovation in the DeFi space. Furthermore, the partnership will enhance the integration of blockchain technology with traditional businesses, accelerating the adoption of Web3 technologies.
Avalanche is considered by many to be the fastest, most reliable smart contract platform in the world. Its revolutionary consensus protocol and novel Subnets enable Web3 developers to launch highly scalable solutions quickly. Deploy on the EVM, or use your custom VM. Build anything you want, any way you want, on the eco-friendly blockchain designed for Web3 devs.
Tencent Cloud is a leading technology company that provides innovative solutions for businesses and consumers. With a focus on cloud services, Tencent Cloud is dedicated to helping companies, and individuals navigate the ever-changing technology landscape.
The partnership between Ava Labs and Tencent Cloud is a significant step forward for Web3, providing developers and enterprises with the resources they need to build Web3 applications on the Avalanche blockchain.
Subscribe to the Avalanche newsletter
Leave your email below and get more info like this:
Disclaimer: Nothing on this site should be construed as a financial investment recommendation. It's important to understand that investing is a high-risk activity. Investments expose money to potential loss.