Fracton Protocol
The Fracton Protocol is a decentralized platform with the goals of fractionalizing non-fungible tokens (NFTs) and increasing liquidity in the market for NFTs.
---
Subscribe to Flagletter
Get content like this in your inbox
When compared to other fractional protocols, the Fracton Protocol offers several distinct functions, including the following:
Fully Decentralized: Fracton users can pre-screen the NFT collections before fractionalization, actively manage NFTs and distribute related benefits.
Dual Fractionalization: Fracton creates the Meta-Swap mechanism that supports exchanges among ERC-20, ERC-721, and ERC-1155.
Price Discovery: Fracton aggregates valuation information from many users to provide fairer pricing for NFTs, laying the foundation for building NFT financial products such as NFT perpetual and ETF.
Fees Collecting: Fracton captures value through transaction fees to stabilize and reinforce the system.
The Fracton Protocol is a decentralized platform with the goals of fractionalizing non-fungible tokens (NFTs) and increasing liquidity in the market for NFTs. Users can buy, own, and trade fractionalized tokens conforming to the ERC-20 and ERC-1155 standards thanks to the protocol, which enables efficient price discovery and the equitable distribution of NFTs. Fracton Protocol uses a dual fractionalization process, which entails slicing an entire NFT into smaller pieces known as People's NFTs and then trading those pieces for fractions that are even smaller than the ones they were initially traded for (FFTs).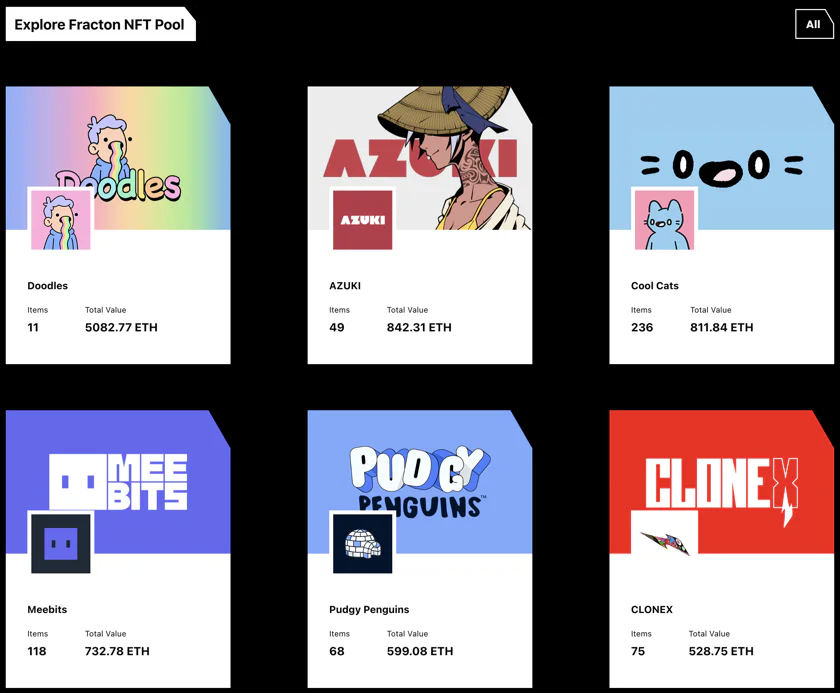 Through this process, multiple users can obtain a share of ownership in the same NFT. The implementation of meta-swap, NFT liquidity pools, and derivatives are some measures that the Fracton Protocol proposes to address the issues of low liquidity and high prices in the NFT market. In addition, the protocol provides a fully decentralized platform, enabling users to perform activities such as pre-screening NFT collections before fractionalization, active management of NFTs, and distribution of related benefits.
The fairer pricing of NFTs is made possible by the Fracton Protocol, which aggregates valuation information from multiple users. This lays the groundwork for developing NFT financial products such as NFT perpetual and ETFs. The Process Behind the Fracton Protocol Users can become fraction owners of target NFT collections by participating in open fundraising rounds hosted on the Fracton Protocol. For example, users can trade their People's NFTs (ERC-1155 fractions) for FFTs (ERC-20 tokens) at a ratio of 1:1000 once they have received their People's NFTs. Fracton Protocol intends to purchase the designated NFT and add it to the company's treasury if the current round of fundraising is successful.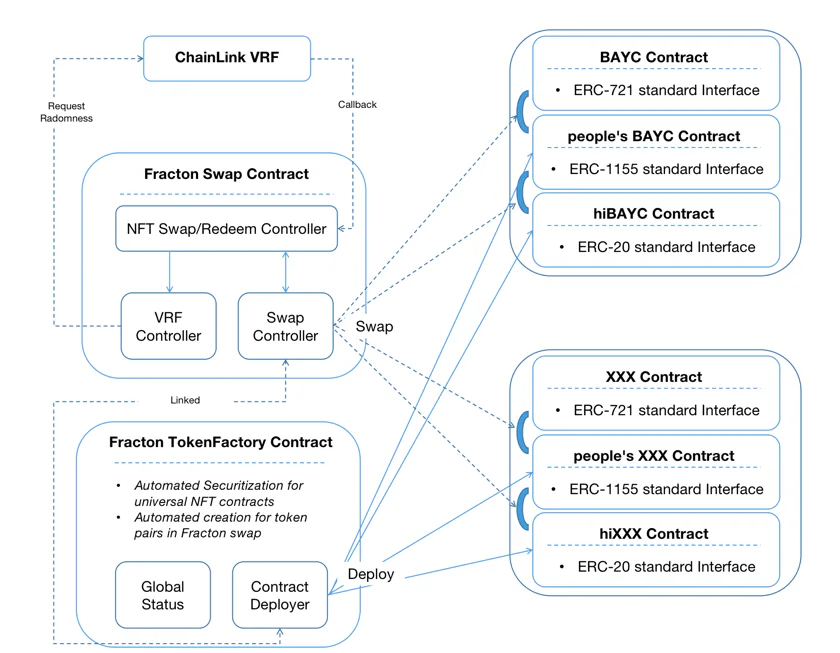 The owners of fractions can instantly redeem any NFTs provided they have sufficient People's NFTs. To further investigate potential arbitrage opportunities, holders of FFT can also trade their tokens on DEXs and cooperative CEXs. The Vision Behind the Fracton Protocol, The developers behind the Fracton Protocol, want to connect the markets for decentralized finance (DeFi) and NFTs. This will allow users to investigate new opportunities in DeFi by utilizing NFTs. In addition, the price discovery feature will provide a more fair and accurate valuation of NFTs. At the same time, the dual fractionalization mechanism and meta-swap function will create an NFT market that is more diverse and liquid.
In addition, the Fracton Protocol intends to stabilize and strengthen the system by capturing value through transaction fees. Fracton Protocol has the long-term goal of establishing itself as the preeminent platform for non-fungible token (NFT) fractionalization and liquidity, providing users with a comprehensive selection of non-fungible token (NFT) financial products and services. The team's goal is to work together with other NFT projects and platforms to develop a cryptocurrency environment that is more comprehensive and integrated.
Fracton Protocol is a decentralized platform to better the equity distribution and liquidity of the NFT market through fractionalization. NFT traders and investors can take advantage of the protocol's unique benefits, including its dual fractionalization process, meta-swap function, price discovery feature, and fee-collecting mechanism. In the long run, the goal of Fracton Protocol is to build a bridge between the DeFi and NFT markets so that it can provide a diverse selection of NFT financial products and services to its customers.
hiBAYC is a fractionalized NFT ETF (non-fungible token exchange-traded fund) token backed by BAYC, a non-fungible token (NFT) representing ownership of a digital collectible. One hiBAYC token represents 1/1,000,000 of a BAYC NFT in an on-chain Meta-swap pool, which is operated automatically by smart contracts on the Fracton Protocol. HiBAYC is permissionless, meaning anyone can redeem their BAYC from HiBAYC, but a 0.6% redemption fee goes to the protocol as a reward.
The total supply of hiBAYC is not capped but rather depends on the number of BAYC NFTs in the Meta-swap pool of the Fracton Protocol. Each BAYC NFT in the pool represents 1,000,000 hiBAYC tokens, while People's BAYC (pBAYC) tokens represent 1/1,000 of a BAYC NFT. As such, the circulating supply of hiBAYC is determined by the total supply minus the number of circulating pBAYC tokens (1,000 hiBAYC per pBAYC) and the total transaction and redemption fees in the protocol.
hiBAYC is an Ethereum-based token that follows the ERC-20 standard, and as such, it is secured by Ethereum's Ethash algorithm. HiBAYC can be bought and traded on cryptocurrency exchanges such as KuCoin and Uniswap, and its price is determined by market demand and supply. At the time of writing, the live hiBAYC price is USD 0.101197.
In order to understand Meta-Swap, it is important to understand the hierarchy of tokens within the Fracton Protocol. There are three standards of tokens in the Fracton Protocol: ERC721, ERC1155, and ERC20.
ERC721 tokens, or BAYC NFTs, are considered the highest ranking tokens in the Fracton Protocol. They are considered real assets within the BAYC vault and the value foundation of the entire BAYC liquidity pool.
ERC1155 tokens, such as Blind Box and People's BAYC, are considered middle-tier assets. They are connected to the existing BAYC and the liquidity token hiBAYC in the system. The number of these ERC1155 tokens is directly anchored to the number of BAYC, and the ETH raised by issuing the Blind Box is used to acquire BAYC for the vault. People's BAYC can also be directly used to redeem BAYC, making these ERC1155 tokens similar to asset-backed securities (ABS) of BAYC.
ERC20 tokens, or hiBAYC, are the lowest ranking tokens in the protocol hierarchy. They are anchored to the number of People's BAYC and Blind Box, but cannot be directly exchanged for BAYC. HiBAYC can be considered as ABS of the middle-tier assets, Blind Box and People's BAYC.
The exchange principle of Meta-Swap is to lock or unlock high-ranking tokens and mint or burn low-ranking tokens. This design aims to stabilize the value system of Fracton Protocol.
When exchanging high-ranking tokens for low-ranking tokens, the high-ranking tokens will be locked in the Meta-Swap system, while the low-ranking tokens will be minted. For example, when People's BAYC is converted to hiBAYC, People's BAYC will be locked in the Meta-Swap pool and the newly minted hiBAYC will be distributed to users.
On the other hand, when exchanging from low-ranking to high-ranking tokens, such as People's BAYC to BAYC, the People's BAYC will be burnt, and the BAYC in the vault will be unlocked and distributed to users.
This mechanism helps to restrict the issuance of low-ranking tokens, ensuring that each lower-ranking token is backed by the corresponding higher-ranking token, and allowing users to exchange fractions for BAYC in the vault that has real value.
Subscribe to Flagletter
Get content like this in your inbox
Disclaimer: Nothing on this site should be construed as a financial investment recommendation. It's important to understand that investing is a high-risk activity. Investments expose money to potential loss.