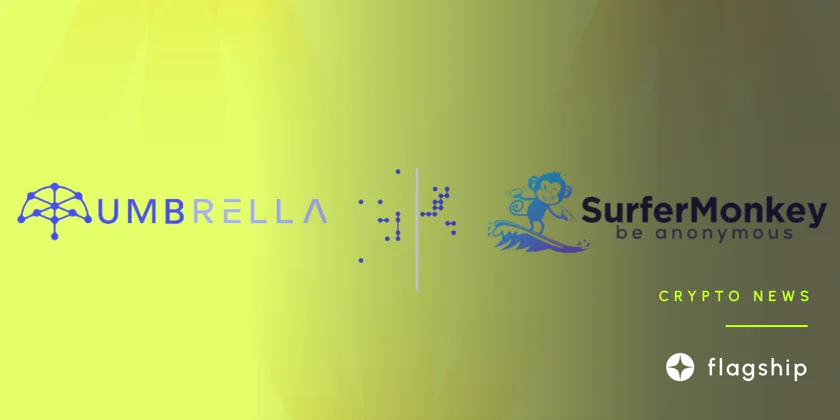 Umbrella Network and Surfer Monkey Team Up to Develop Blockchain-Based Proof of Solvency Solution for Centralized Exchanges
In response to the demand for more security and trust from users, blockchain-based solutions are becoming more essential to ensure that exchanges are solvent and trustworthy.
---
Umbrella Network (website) and Surfer Monkey (website) have joined forces to develop a cutting-edge proof of solvency solution for centralized exchanges. As the importance of transparency in centralized entities, particularly in the exchange industry, has come under increased scrutiny due to recent incidents such as the FTX situation, users are demanding more accountability and security from these platforms.

There is a growing need for innovative solutions to ensure that exchanges are trustworthy and solvent. To prove solvency, three things are necessary: publicly available information on user account balances, non-public information on exchange liabilities, and non-public information on the exchange treasury. The challenge is to demonstrate solvency without disclosing sensitive company information in the process.

To address this challenge, Umbrella Network and Surfer Monkey are partnering to explore a concept that can provide transparency, accountability, and privacy. Umbrella has a wealth of experience in Merkle Tree technology and securing data on-chain. At the same time, Surfer Monkey are experts in Zero Knowledge Proofs (ZKP), which can be used to keep sensitive information private. By combining both technologies, the two companies will work together to establish a universal standard for user balance verification while also providing privacy customization options for each exchange.
Eugenio Di Santo, Umbrella's product owner, believes that the partnership with Surfer Monkey allows Umbrella Network to gain expertise in ZKP technology while reducing the timeline for delivering the Proof-of-Solvency solution to the market. Meanwhile, Miguel DM, Co-founder and CEO of Surfer Monkey, believes collaboration is critical in achieving a more transparent accounting system for centralized exchanges. By leveraging Zero Knowledge Proofs and network distribution, Surfer Monkey and Umbrella Network are committed to achieving a vision of a more secure and transparent future.

Both teams are excited about the prospect of creating a robust solution for the industry. Centralized exchanges are still the entry point to the blockchain economy, and a universally usable and customizable Proof of Solvency solution could bring trust back and continue the positive growth of the blockchain ecosystem. In addition, by establishing a universal standard for user balance verification, exchanges can provide a transparent and trustworthy environment for users, which is essential for the growth of the blockchain industry.

Suppose you're interested in learning more about Proof of Solvency. In that case, Umbrella Network has a wealth of information on the topic in their previous articles, such as "The Importance of Proof of Reserves" and "Does Proof of Reserve Guarantee Transparency?"
Umbrella Network is a decentralized, community-owned data oracle that uses Layer 2 technology to integrate real-time data into smart contracts. Their approach enables faster and more cost-effective information delivery at scale, making a decentralized oracle crucial for creating a truly decentralized blockchain ecosystem.
Surfer Monkey, on the other hand, is an early-stage startup based in the UK that aims to deliver a groundbreaking privacy ecosystem for all EVM blockchains. The company's innovative protocol allows developers to build applications that provide privacy to their users while complying with financial regulations at a protocol level. Surfer Monkey's objective is for its protocol to become a global regulatory standard for private DeFi transactions.
Subscribe to the Crypto News newsletter
Leave your email below and get more info like this:
Disclaimer: Nothing on this site should be construed as a financial investment recommendation. It's important to understand that investing is a high-risk activity. Investments expose money to potential loss.