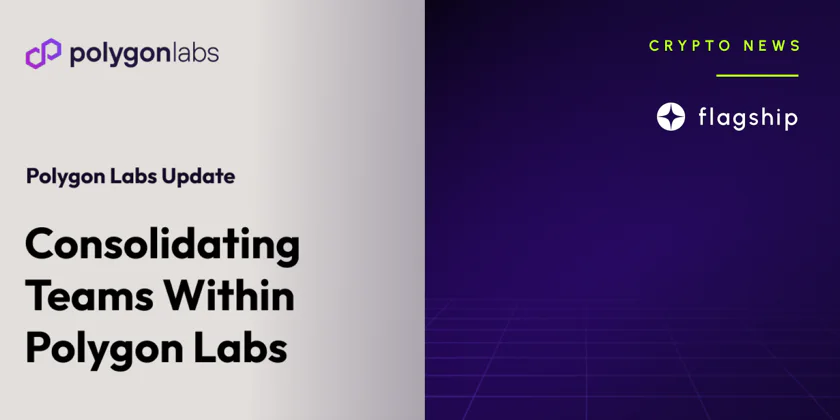 Polygon Announces Workforce Reduction and Consolidation of Business Units Under Polygon Labs
The Restructuring Will Help Drive Mass Adoption of Web3 by Scaling Ethereum, But a Painfully Hard Decision Results in 20% Reduction of Workforce.
---
Polygon (website), a globally recognized blockchain technology company, announced consolidating multiple business units under Polygon Labs. This move aims to help the company drive mass adoption of web3 by scaling Ethereum, in line with their strategy for the next several years. As part of this restructuring, the company had to make a difficult decision and lay off 20% of its workforce, impacting approximately 100 positions.
Polygon Labs' consolidation of business units will provide a more structured and unified approach to developing the company's cutting-edge technology. In addition, the restructuring will help drive Polygon's mission to scale Ethereum and mass adoption of web3. However, this transition means the company must reduce its workforce by 20%, affecting numerous teams.
Polygon's Founders and Ryan acknowledged this decision's difficulty but emphasized that it was necessary for the company's journey. The departing employees have played an integral role in building the Polygon ecosystem and will always be a part of the Polygon community.
Polygon's leadership team recognizes that this is a challenging time for those leaving the company and colleagues staying behind. The company acknowledges that their teammates are their friends and comrades, and everyone takes pride in their accomplishments. The company is grateful for the contributions of the departing employees and wishes them all the best in their future endeavors.
In recognition of the impact on the departing employees, Polygon has committed to supporting them through difficult times. Impacted employees will receive three months of severance pay, regardless of their level or tenure at Polygon Labs. In addition, the company's Founders and Ryan expressed their continued support for their departing colleagues, emphasizing that they will always be a part of the 0xPolygon community.
Polygon's leadership team is committed to taking the necessary steps to ensure that the company continues to grow and drive innovation in the blockchain space. Consolidating business units under Polygon Labs will help streamline the company's focus, drive innovation, and support the company's strategic objectives. The company recognizes that this transition will be difficult but is confident it will emerge more robust than ever.
While announcing the restructuring and the subsequent layoffs has been difficult for everyone involved, the Polygon leadership team believes this decision was necessary to ensure that the company remains competitive and continues innovating. In addition, Polygon's commitment to its employees and the development of cutting-edge blockchain technology remains unchanged.
Subscribe to the Crypto News newsletter
Leave your email below and get more info like this:
Disclaimer: Nothing on this site should be construed as a financial investment recommendation. It's important to understand that investing is a high-risk activity. Investments expose money to potential loss.