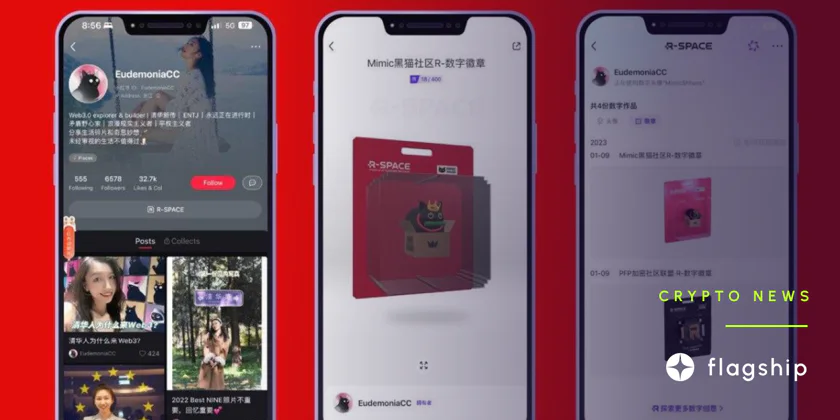 China's "Instagram" chooses Conflux Network for permissionless blockchain integration
Little Red Book (XiaohongShu), the Chinese version of Instagram, integrates Conflux Network as a permissionless blockchain allowing users to showcase NFTs minted on Conflux on their profile page in the digital collection section called 'R-Space.'
---
The platform has more than 200 million active monthly users. This integration brings NFTs closer to mass adoption, where people actively use Web3 technology daily within a Web2 system.  
Little Red Book has previous alliances with blockchains and NFTs but never a permissionless network. 
Ming Wu, CTO of Conflux, said, "large internet industry players in China have initiated efforts embracing the Web3 transition. As a result, Conflux is becoming the major bridge connecting the two worlds and taking a leadership role to expand Web3 technology into traditional industry scenarios."
From a regulation perspective, having such a large-scale company integrate a permissionless blockchain further solidifies China's pro-NFT position. Moreover, it suggests we can expect an increase in local companies considering blockchain technology integration with existing Web2 companies. 
The first Conflux NFT supported by Little Red Book is from the Mimic Shhans community, which has a sizeable Chinese community base, and owners of the original NFT can go through a predefined process to receive the Conflux NFT that can be shown on their Little Red Book profile page.
About Conflux

Conflux Network is a permissionless Layer 1 blockchain connecting decentralized economies across borders and protocols. Recently migrated to hybrid PoW/PoS consensus, Conflux provides a fast, secure, and scalable blockchain environment with zero congestion, low fees, and improved network security.
As the only regulatory-compliant public blockchain in China, Conflux provides a unique advantage for projects (read further about Conflux ecosystem projects) building and expanding into Asia. In the region, Conflux has collaborated with global brands and government entities on blockchain and metaverse initiatives, including the city of Shanghai, McDonald's China, and Oreo.
Subscribe to Flagletter
Get content like this in your inbox
Disclaimer: Nothing on this site should be construed as a financial investment recommendation. It's important to understand that investing is a high-risk activity. Investments expose money to potential loss.