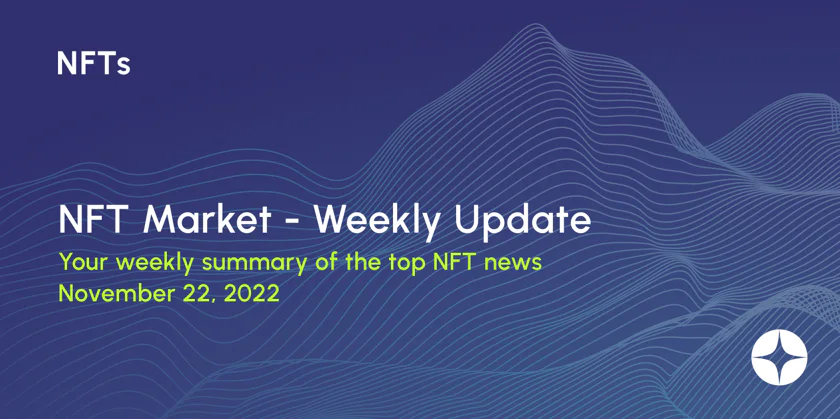 NFT Market Weekly Update | November 22
Your weekly recap of the most critical developments in the NFT market. It covers the top news, market statistics, and upcoming projects to monitor!
---
Fifa World Cup NFTs Onboarding New Users
FTX Collapse Effect on the NFT Market
NFT Marketplace X2Y2 enforces Royalties
NFT Market Statistics & Highlights
NFT Projects to Watch
It's been a tough week as the crypto market bleeds from the collapse of the FTX Crypto Exchange. The whole Web3 Industry has been affected by it, and most NFT collections have decreased in value since last week. However, despite most markets being down, the NFT sector keeps building & developing. So let's look at the most relevant events in the previous seven days!
FIFA World Cup NFTs Onboarding New Users. The hype around the most significant event in sports is rising by the day. Recently Binance partnered with Cristiano Ronaldo to release an exclusive collection of NFTs for new users. The collection's release is linked to a global advertising campaign to introduce new users to Web3 through the world of NFTs.
FTX downfall impact on NFTs. It's been a tough week for the crypto market due to the collapse of FTX. According to a recent DappRadar, NFT sales have dropped 68.60% since November 1st. The total trading volume is also down 68% since the start of the month. Blue Chip NFT collections seem to hold their value. Top collections have decreased by 9.7% on average. Read the full report here.
The popular NFT Marketplace, X2Y2, recently announced that they will enforce creator royalties. We recently saw OpenSea releasing a similar statement. There is an ongoing discussion about whether creator royalties should be enforced or optional.

Benefits of Enforced Royalties: Creators generate revenue on each 2ndary sale. It incentivizes new creators to list NFTs.
Benefits of Optional Royalties: It incentivizes the frequency of trading activity. Royalties can be optional and seen as 'tips for the creators.
Over the weekend, there was a significant drop in Ethereum & Solana (like most of the other Layer 1 blockchains) because of the recent FTX market. FTX was also attacked by a hacker who stole 400 million dollars worth of cryptocurrencies. This all impacted the NFT collections.
Solana NFTs: Solana reached a low of $11 this week. This affected most of the NFT collections on Solana, including Y00ts & DeGods. Even though Solana has decreased in USD value, the top 3 collections have shown to increase in Solana value, which might show that people still see value in it.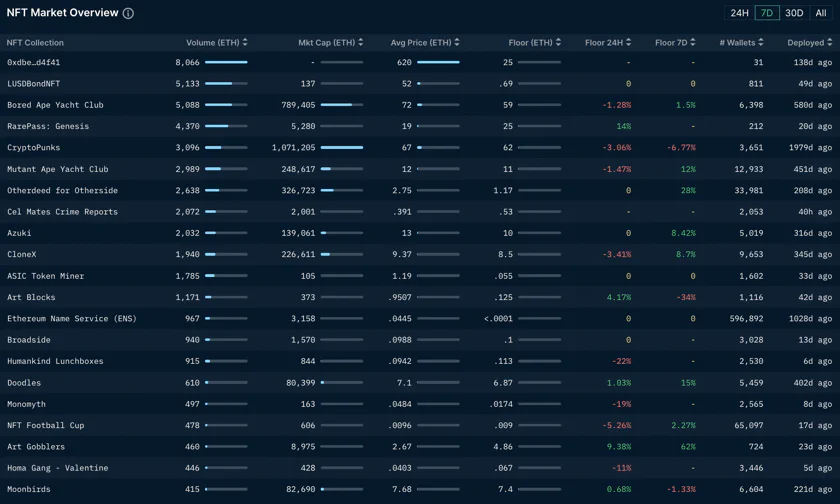 Valhalla: Releasing on November 22, this project seems to be getting into the eyes of many NFT traders. The project looks promising, with strong partnerships, a solid team, and a good project vision. The mint will be held in three phases, the first of which is starting on November 22. Read all about it here.
Square Enix is known for coming out with titles like Final Fantasy. They will release a project named SymbioGenesis, launching in spring 2023. In addition, they have partnered with LLG, the largest Japanese NFT guild.
That's all for this week's outpost on NFTs! Stay tuned for our monthly report coming out next week!
Flagship is an easy-to-use DeFi platform. We provide you access to early investment opportunities across emerging crypto sectors through our cross-chain ecosystem of decentralized funds and a network of experts.
Join our Discord to be part of our active community and discover new assets and opportunities
Check out our website and whitepaper here
Get in touch with the team
We'd love to have you onboard!
Disclaimer: Nothing on this site should be construed as a financial investment recommendation. It's important to understand that investing is a high-risk activity. Investments expose money to potential loss.