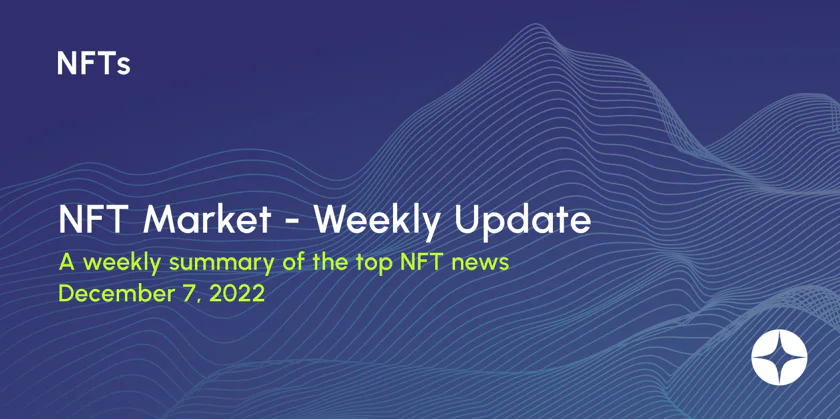 NFT Market Weekly Update | December 7, 2022
Your weekly recap of the most critical developments in the NFT market. It covers the top news, market statistics, and upcoming projects to monitor!
---
Apple blocks CoinBase App update
Binance introduces bored Ape NFT staking
Miami Art Basel highlights
Music NFTs take off!
Warner Music Group will release music NFTs
Crypto.com partners with Coca-Cola
Chinese Court says NFTs are private property protected by law
Market Statistics
Projects To Watch
Apple blocks CoinBase App update: Coinbase reported that Apple had prevented them from updating its mobile app unless the NFT transfer feature was turned off. Apple is requesting a 30% cut on gas fees on NFT mobile transactions. Coinbase shared its disappointment with Apple's strict guidelines on NFTs. Apple claims that the gas fees required to send NFTs must be paid through their in-app purchase system so that they can collect 30% of the gas, which usually the gas fees are for the Ethereum miners. Apple wants Coinbase to figure out that for themselves and come back when they have sold the issue as long as we get 30%.
Binance introduces Bored Ape NFT staking: The largest crypto exchange announced the Ape NFT Staking program. Scheduled to launch on December 12. Users can stake their Bored Ape Yacht Club and Mutant Ape Yacht Club NFTs on Binance and earn ApeCoin ($APE) in daily rewards. Staking periods are 30-60 or 90 days or flexible terms.
Miami Art Basel Updates: Art Basel took place last week in Miami Beach. The event hosted leading galleries from artists worldwide. RTFKT generated hype during the event with the new announcement of the upcoming crypto kicks in real life, a product of Nike and RTFKT collaboration. The physical shoes come with a chip inside to connect your wallet. A lot has yet to be announced, but what we have seen so far looks impressive! Holders of RTFKT Lace Engine NFT will receive access to purchase a pair of the crypto sneakers for 0.38 ETH, approximately $478. With a limited collection of 19,000 pairs. Starting from December 12-16. Here's a recent vlog of a YouTube creator who shows the NFT highlights during the event.
Music NFTs take off! Songs in the form of NFTs are growing in popularity. Warner Music announced a Polygon-based marketplace that sells songs as NFTs. The marketplace is called. LFND Music, which is set to launch in January. On a similar note, sound.xyx, a platform for music tokens, is growing in popularity. Mints on the platform have doubled in the last two months—closing December with 12,080 mints. Some artists have made more for my fans this month than they have done in years. Music NFTs might be a potential trend to take off in 2023!
"We have been working for over a year to provide the best blockchain experience for passionate music lovers around the world. We expect innovative and unique content from WMG artists of all genres." - Warner Music Group
Crypto.com & Coca-Cola World Cup NFT Release. Cronos, the token by Crypto.com, surged this week due to their recent partnership with Coca-Cola, which involved launching an NFT collection of 10,000 NFTs, celebrating the 2022 FIFA World Cup in Qatar. During the release, we say the $Cro increased 10% in a day. Fans can buy the NFTs after they sign up. The exchange is looking into onboarding new users in Qatar, Saudi Arabia, and the United Arab Emirates.
Chinese court says NFTs are virtual property protected by law. This news came as a surprise because of China's ban on crypto. This points towards the interest in separating NFTs from crypto with a blockchain project backed by the government to support the deployment of non-crypto NFTs paid with fiat money. The Chinese court stated that NFTs are "unique digital assets" that "belong to the category of virtual property."
NFT Top 25 Collections Rankings:
That's all for this week's outpost on NFTs! Stay tuned for our monthly report coming out next week!
Flagship is an easy-to-use DeFi platform. We provide you access to early investment opportunities across emerging crypto sectors through our cross-chain ecosystem of decentralized funds and a network of experts.
Join our Discord to be part of our active community and discover new assets and opportunities
Check out our website and whitepaper here
Get in touch with the team
We'd love to have you onboard!
Disclaimer: Nothing on this site should be construed as a financial investment recommendation. It's important to understand that investing is a high-risk activity. Investments expose money to potential loss.