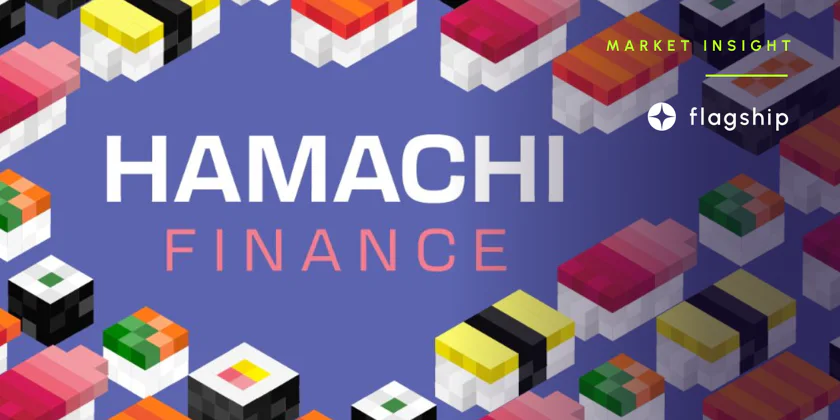 Hamachi Finance: Project Analysis:
This article briefly looks at Hamachi Finance, a recently launched DeFi project on Arbitrum. In their own words, they're "Arbitrum's first multi-currency rewards token." Let's see what they mean by that
---
Hamachi just launched on Arbitrum
Its $HAMI token unlocks rewards in the form of other Arbitrum tokens
The anonymous team has vague but interesting plans
This is a hazardous project, but the token's reward model can be interesting
Hamachi launched on the 20th of January, 2023. Their dapp is relatively simple but effective. By owning the project's token $HAMI and connecting your wallet to Hamachi's dapp, you earn tokens from other Arbitrum projects. The first reward is the token ($JONES) of JonesDAO, a derivatives project on Arbitrum.
These token rewards are bought with a tax that buyers and sellers of the $HAMI token must pay. There is a 7% tax programmed into the contract of the token. This tax means that every time you buy or sell the token via a decentralized exchange like Sushiswap, you'll lose 7% of the transacted tokens.
The team uses these token taxes to buy tokens of other projects and reward them to $HAMI holders. Additionally, these taxed tokens are used to reward liquidity providers.
As described above, the $HAMI token's main utility is the rewards it unlocks. This is potentially a valuable utility of the $HAMI token. It rewards token holders with other Arbitrum tokens. For all the token details, click here.
These rewards are a lot more interesting than just earning more of the same tokens, which causes an increase in the supply (inflation) and sooner than later will destroy the token's value. In this case, you'll gradually earn other tokens, reducing your risk.
Essential for this to work is of course whether other projects are interested in using Hamachi for promotion. Without token rewards, both $HAMI and Hamachi don't have much to offer. On the other hand, IF the Hamachi team manages to consistently attract quality Arbitrum projects, the token can become quite attractive. According to the team "these tokens are researched and reviewed by our crypto analysts". We'll see.
In total, there will be 50 billion $HAMI tokens. The token allocation is shown above and is reasonable IF the team has genuinely locked and vested the tokens they claim to. Unfortunately, this is still to be seen…
The team behind Hamachi is entirely anonymous, and no details could be found. While always a good reason to be very cautious, it is common practice for smaller, simpler dapps in the industry.
By using token sniffer, we found some concerning aspects of Hamachi's token contract. The contract's ownership is not renounced, meaning the creator(s) can modify it and for example disable selling, change fees or mint new tokens.
Additionally, the team has provided liquidity but this is not locked, meaning they can rugpull. Finally, 97% of all the tokens are still in the ownership of the team.
We did find this:
While not very meaningful, it gives a sliver of credibility that Sushiswap was willing to help the team. However, with the above-described contract details, still extremely risky.
Arbitrum may not be the last stop for Hamachi as the team says they have plans to go multichain (e.g., Optimism, Avalanche, or BSC). The team also states the goal of building an active community. Thus far, the project has a humble following count (780 Twitter and 130 Telegram at the time of writing).
In the end, the only thing that really matters is that the team consistently rewards quality tokens to $HAMI holders and continues to grow. Without consistent growth, the token economic model of Hamachi will likely fail as fewer taxes means lean rewards, leading to less token demand, fewer taxes, and so on.
This project is perilous, with an anonymous team, questionable contract details, and a likely unsustainable token model. The rewards the $HAMI token offers are a potentially valuable utility, but Hamachi is extremely risky.
Disclaimer
This article does not constitute investment advice in any way. Crypto is highly volatile and risky (and often degenerate), and there's a big chance that you'll lose money. Rug pulls, smart contract bugs, economic exploits, and many other risks can happen, causing projects and their assets to lose all their value.
Disclaimer: Nothing on this site should be construed as a financial investment recommendation. It's important to understand that investing is a high-risk activity. Investments expose money to potential loss.