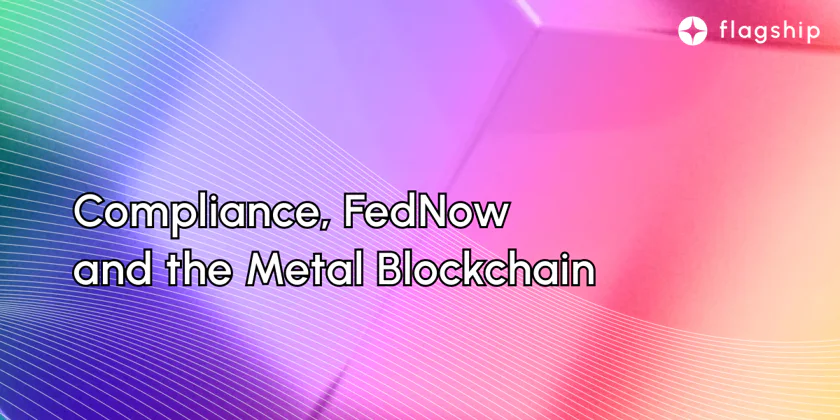 Delving into Metal Blockchain: Breaking Barriers for Big Banks with FedNow
The Metal Blockchain enables compliant DeFi and has been making strides in becoming the leading blockchain for traditional financial insitutions. This article provides an exhaustive overview of the protocol and company.
---
Metal Blockchain has recently announced a FedNow integration, allowing individuals and banks to convert cash to stablecoins and vice versa using the US Central Bank's new, instant payments system. This makes Metal Blockchain one of the first blockchain networks to be listed as a FedNow service provider and peaked our interest in this relatively unknown protocol.
Regulations are coming, compliance will be enforced and signs that the traditional financial industry, worth roughly $600 trillion, is getting ready to go on-chain are all valuable signals of what's in store for crypto's future, and the Metal Blockchain may find itself ideally positioned for this. Any blockchain that can capture a fraction of the traditional world of finance will capture billions in value and in this article, we dive deep into the Metal Blockchain, the team building out a complete ecossystem around it and the protocol's compliance-first approach.
There are many, many different blockchains. Some optimize for the total number of transactions they can process, others for security and recently, there are more blockchains that specialize in facilitating a specific use case. The Metal Blockchain (website) is optimized for global finance, one of the largest industries in terms of value. It does this through focusing on features that financial institutions need to be able to use a blockchain, such as Bank Secrecy Act compliance, privacy and the incorporation of standards like the Swift ISO 20022 and digital identity. In their own words, "Metallicus is a customer-centric digital asset banking network for consumers and corporations."
Metal is designed to facilitate significant volumes of transactions between financial organizations in a regulatory-compliant manner. The Proof-of-Stake blockchain itself is a fork of the innovative Avalanche blockchain and effectively has similar capabilities when it comes to scalability, security and the creation of so-called subnets, which are mini blockchains that can be created by anyone and customized based on the users' needs, while still being partially secured by the main blockchain. Similar to Avalanche, about 4,500 transactions can be processed per second, which are settled in under 0.5 seconds and in theory infinitely scalable through subnets.

Different than Avalanche is Metal's layer 0 approach. The term Layer 0 refers to an architecture that allows a blockchain to connect and communicate with other blockchains, making them interoperable. This means that financial organizations using Metal can transact across many of the different blockchains comprising the industry, such as Bitcoin, Ethereum, Solana and Polkadot.
The chain is also EVM-compatible, meaning that any decentralized application (dapp) that is built on top of an EVM blockchain can easily migrate to Metal. The protocol also includes on-chain key recovery through biometrics, meaning that when a user loses access to his or her private keys, wallet access can still be recovered.
Besides the layer 0 approach, Metal mainly differs from Avalanche by adding a fourth subchain to its foundation. Where Avalanche has 3 chains; the C-Chain for Solidity smart contracts, X-Chain for asset management and cross subnet transfers and P-Chain for staking, network consensus and subnets, Metal has added a fourth one called the A-Chain. This is a blockchain called Proton Chain which is a new virtual machine that enables additional functionality for the creation of digital assets, DeFi, dapps, DAOs and messaging and boasts free and instantaneous payments. Proton was designed to communicate with banks, payment processors and traditional fiat gateways through Proton Signing Request (PSR), and it hosts dApps that banks can use.
Click here for Metal Blockchain's technical documentation
The Metal Blockchain has its own native token with the ticker $METAL. The token is nearly identical to Avalanche's $AVAX token with its core functionalities being that it's used to pay for transactions on the blockchain through fees, secure the network through staking the $METAL and as a basic unit of account for transactions between different subnets.
To become a validator on the network, you need 2,000 $METAL tokens. You can also delegate your tokens to an eligible validator, allowing you to still reap the staking rewards without running a node yourself.
In total, there can be 666,666,666 tokens. At the blockchain's genesis, 333,333,333 $METAL tokens were created, of which 71 million were granted to the founders and 144,333,333 to the Metal Foundation. Fees paid for transactions are burned, meaning the total supply will become deflationary over time. According to Coinmarketcap, roughly 6% of the $METAL supply is currently in circulation, which could imply high selling pressure in the future as the remaining 94% is unlocked. This inflation is very gradual though, it'll take more than 20 years to release to complete supply.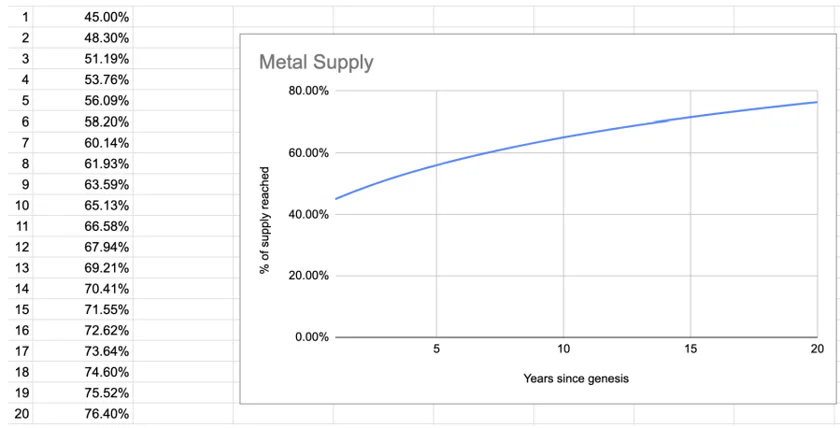 Over the past years, the team behind Metal, which we'll highlight later on, has build ecosystem of protocols and applications all focused on providing compliant, blockchain-based financial services. In this section, we'll briefly introduce the core pillars of their ecosystem and the accompanied tokens.
The Proton blockchain (website) is a blockchain built for programmable payments that's fast, easy and built to work with banks. It is based on the EOSIO protocol and has a unique and efficient fee system and integrates decentralized identity, making it ready for a regulated DeFi world. Proton's native cryptocurrency, $XPR, offers four forms of utility: paying for resources like CPU, NET, RAM, staking, voting for Block Producers, and participating in on-chain governance.
Proton has a suite of decentralized dApps, including Proton Loan $LOAN, a decentralized lending market with cross-chain capabilities, and Proton DEX, a next-generation decentralized exchange for automated cryptocurrency trading. They've also made strides in making NFTs more accessible through Proton Market, an open-source NFT platform that allows NFT creation and trade with zero gas fees. Moreover, Proton and Metal have ventured together into the DeFi space, launching Wrapped Coins, Proton Swap, and Lending Market.
The Metal Dollar ($XMD) (link) is the world's first basket of non-algorithmic, fully backed stablecoin. It is a basket of stablecoins like USDC, Gemini USD and Paxos USD, is powered by smart contracts and runs on the Proton blockchains. The stablecoin is used for all trading pairs on the Proton DEX and can be minted and redeemed without incurring fees.
The Metal Dollar is governed via the Metal DAO. This DAO uses its own token $MTL which is used to vote on changes for the stablecoin's backing. Next to this core utility, $MTL holders also get trading discounts, token rewards and other perks when using the MetalPay app.
MetalPay is a consumer-facing payments app. It has a built-in cryptocurrency marketplace containing over 40 different token options, a credit card that includes cashbacks and crypto rewards and methods to directly link crypto wallets with bank accounts. It leverages Proton to enable users to move in and out of crypto with fiat, connecting their cash balances to crypto holdings in one spot. It's available across all 32 European countries and in 46 U.S states, live on App Store/Google Play. A cool feature is that users can use it to receive and give paychecks and bills like a regular bank account. Metallicus has also taken the tech behind Metal Pay, and positioned it to offer cryptotrading capabilities to companies inside and outside of the financial services industry.
WebAUTH is a new industry standard for device authentication, identity management, payment processing, and cryptocurrency transactions for Web 3.0, built on the Proton blockchain. It is regulatory compliant and provides a secure way for individuals and organizations to identify themselves via the blockchain network.
Subscribe to Flagletter
Get content like this in your inbox
The Metal Blockchain is developed by Metallicus, a for-profit blockchain payments company that was founded in 2016. Metallicus governs the payments ecosystem that is being built with the Metal Blockchain, but also with various other projects that will be discussed later in this article. At the head of Metallicus are the CEO Marshall Hayner, CTO Glenn Marien, COO Donald Berk and CFO Irina Berkon. The team has vast experience in the crypto and financial industries, with Marshall having developed Facebook's first Bitcoin wallet, Glenn creating the first Dogecoin wallet and Donald being a former banking executive with over 25 years of experience. The rest of the core team is also impressive, but Metallicus' backing is where things get really interesting.
The Metal blockchain has set out to become the leading protocol for compliant financial services. Financial service providers generally don't work with startups as their requirements both on the legal and services sides are high and they need a regulatory compliant environment. The advisory board of Metal is rife with traditional financial veterans, with decades of experience at organizations such as the Federal Reserve, the Comptroller of the Currency, Citigroup, and BNY Mellon. The networks and vast experience these advisors bring with them is essential for a protocol like Metal to have a chance of succeeding with large financial institutions.
The Metallicus team has also recently announced the formation of FBBT Holdings, Inc., to expand banking and financial services to underserved customers in emerging technology industries. As part of this effort, FBBT Holdings' plans to acquire the 100-year-old State Bank of Nauvoo.
Metal Blockchain and the related ecosystem have been in the making for 7 years. Over this period, the well-connected and experienced team has laid a rock solid foundation in line with their vision of creating a compliant, bank-ready DeFi ecosystem. The fact that financial industry giants like JP Morgan highlight the project in their reporting and the pioneering intergration with the nearing FedNow system underscore that this team and their products have a serious shot at onboarding the largest global industry.
Metallicus and the Metal Blockchain do face stiff competition from the likes of Ripple Labs, Venom, Velo, Corda and Hyperledger, but their building mentality, deep industry ties and lazer focus on compliance and solving the pains of large financial institutions gives it a serious shot at becoming one of the leaders in compliant DeFi. The team is committed to building long-term partnerships with industry leaders while simulatenously providing valuable, seamless retail payment products. With FedNow going live in July 2023 and many more payment rail upgrades and CBDCs likely introduced over the next few years, Metal Blockchain seems ideally positioned to take a significant market share.
Disclaimer: Nothing on this site should be construed as a financial investment recommendation. It's important to understand that investing is a high-risk activity. Investments expose money to potential loss.