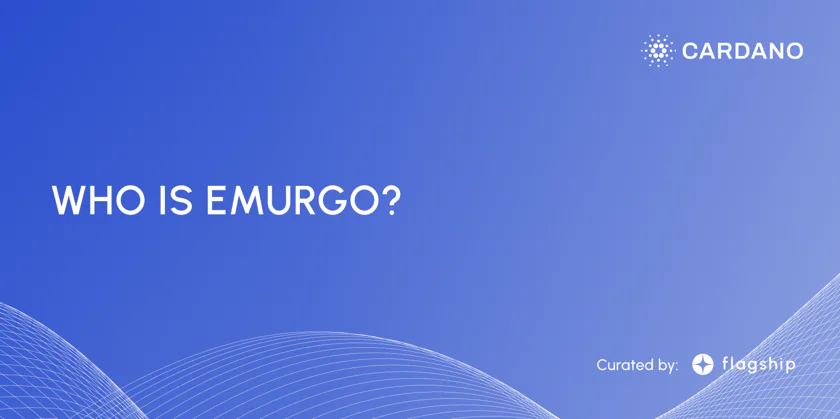 Emurgo: Driving Adoption and Innovation in the Cardano Ecosystem
In this article, we deep dive into Emurgo, one of the three founding entities of Cardano. As the commercial entity, we discuss what alpha their investment could signify in driving adoption and innovation.
---
Subscribe to Flagletter
Get content like this in your inbox
EMURGO is a global blockchain company aiming to drive the adoption of the Cardano blockchain through investment, advisory services, and by building projects and organizations that adopt Cardano's decentralized blockchain ecosystem. Founded in Japan in June 2017, EMURGO has since expanded to Singapore, Indonesia, India, and New York and acts as the official commercial arm of the Cardano project, working closely with IOG and The Cardano Foundation to grow Cardano's ecosystem globally and promoting its adoption.

EMURGO's services are split into four main categories: Systems Development, Education & Academy, Investment & Accelerator, and Advisory Services. These services are designed to leverage the company's expertise in blockchain research and development (R&D) and its global network of blockchain and industry partners to support ventures globally. For example, through its Systems Development services, EMURGO offers various blockchain development services, from smart contract development and implementation to blockchain infrastructure and token economics consulting.

EMURGO's Education & Academy services are designed to provide both organizational and personal education on blockchain technology. The company offers a range of educational resources through its online education platform, EMURGO Academy, including online courses, tutorials, and webinars on topics such as blockchain technology, smart contracts, and decentralized finance (DeFi). Click here to view the available courses.

EMURGO's Investment & Accelerator services are designed to help early-stage and growth-stage companies focused on building socially impactful solutions powered by the Cardano blockchain. The company has recently launched a new Cardano ecosystem investment vehicle to invest into these types of companies, which will be composed of two separate entities: EMURGO Africa and EMURGO Ventures. EMURGO Africa aims to support more than three hundred regional startups through seed funding and incubation, ultimately to have Cardano's blockchain adopted as the technological platform standard in Africa for socially impactful solutions. EMURGO Ventures will focus on other developed markets to facilitate the building of solutions and services on Cardano, with a set capital allocation for seed investments into a variety of Cardano-focused startups and middleware solutions companies, including those building decentralized financial services (DeFi), non-fungible token (NFT) projects, blockchain developer education tools, and other decentralized applications.

Finally, EMURGO's Advisory Services provides a range of consulting services to help organizations understand and adopt blockchain technology. This includes strategic planning, technology evaluation, and implementation support. Through its advisory services, EMURGO works with companies and organizations to understand their specific needs and develop solutions that will help them to achieve their goals using blockchain technology.

In addition to its services, EMURGO has made more than ten direct investments into blockchain startups through its previous partnership with SOSV. This includes API3, a data service provider for blockchains that has garnered investment from major funds in the blockchain industry.
EMURGO Media is one of these recent investments. It has been set up to create media-related products and services for the Cardano ecosystem, with a specific focus on empowering and connecting Cardano enthusiasts so that they can change the world together.

To achieve this goal, EMURGO Media has several key objectives. The first is to spearhead the aggregation and distribution of both curated and user-generated Cardano-related content to the broader Cardano community. This will involve bringing together valuable and quality content from reliable sources in the Cardano ecosystem, in order to provide up-to-date developments and information to the community.

In addition to this, EMURGO Media also aims to broaden awareness of Cardano and bring new users into the Cardano ecosystem from Web2 industries. They will do this by sharing content on potential Cardano projects and case studies that demonstrate the unique competitive advantages that the Cardano blockchain provides.

Another goal of EMURGO Media is to develop sustainable business models and incentivize Cardano users to create, share, and monetize user-generated content. This will help to build a thriving ecosystem of content creators, who can share their knowledge and expertise with the broader community.

Finally, EMURGO Media will assist Web3 projects to successfully build their communities and communicate their narratives to the broader community. By providing a platform for Web3 projects to share their stories, EMURGO Media hopes to help these projects grow and succeed.

As part of this initiative, EMURGO Media's first product to the market is Cardano Spot, a social network and information platform for the Cardano community. Cardano Spot provides a user-generated interactive platform that is specifically designed for investment, distribution, consumption, and monetization of Cardano content. This platform solves the issue of fragmented content in the Cardano ecosystem by aggregating valuable, quality content from reliable sources, giving users up-to-date developments in the Cardano ecosystem.

Sebastian Zilliacus has been appointed as Managing Director of EMURGO Media, where he will lead the efforts of this new venture. With his expertise and understanding of the Cardano community, he is well positioned to drive the success of EMURGO Media and bring together the community to achieve its vision of "changing the world together"
Another major investment by EMURGO, is the development of a new stablecoin, USDA.

USDA is the first fully fiat-backed, regulatory-compliant stablecoin in the Cardano ecosystem and is designed to safeguard Web3 companies and consumers from crypto market volatility. By leveraging the stability of the U.S. Dollar and combining it with Cardano's security, low fees, and eco-friendly blockchain, USDA aims to lock in the value of investors' crypto assets by pegging 1:1 to the U.S. dollar, reducing volatility, and unlocking fast global transactions without legacy banking and payment infrastructure delays.

The introduction of a fully fiat-backed, regulatory-compliant stablecoin is a key step towards realizing the future of the Cardano ecosystem, said EMURGO Fintech Managing Director Vineeth Bhuvanagiri. USDA is a native asset, freely exchangeable on Cardano, and backed by U.S. currency. This stablecoin not only offers stability to investors conducting financial transactions on the blockchain, but also advances a path forward for the Cardano ecosystem to address a problem it is uniquely positioned to solve, that is, banking the underbanked.

EMURGO has partnered with a regulated financial services company based in the United States to custody cash deposits, assuring that the stablecoin is fully compliant and adheres to regulatory guidelines. Backed by "real-world" assets, USDA provides strong, long-term price stability that may eventually lead to unlocking more reliable financial services to the Cardano ecosystem.

USDA is the first product being brought to market within Anzens, EMURGO's new product suite which aims to bridge the gap between traditional finance (TradFi) and DeFi. Anzens will provide a portal to regulated financial services products offered within the Cardano ecosystem wherein anyone can tokenize their dollars and move them as a Cardano-native asset.

According to Bhuvanagiri, Anzens is the next step in utilizing the Cardano ecosystem to address some of the biggest challenges the crypto industry faces in creating real-world solutions that seamlessly connect to the traditional financial services world. From managing Web3 balance sheets, to making card payments directly with crypto, to better lending and borrowing services, Anzens will set the standard for safe and secure portals between TradFi and DeFi.

USDA is planned to launch on the Anzens platform in Q1 2023, where users will be able to tokenize their USD into USDA via credit/debit cards, Wire Transfer, ACH, or conversion of ADA. Alongside the tokenization of USD, EMURGO will soon enable the safe and convenient conversion of other stablecoins including USDC and USDT to USDA, with further plans to enable conversion and swaps of cryptocurrencies such as BTC, ETH, amongst others. The goal is for Anzens suite of products to include regulated borrowing and lending services, crypto to USD currency conversion for immediate card payments, and stake pools that pay out rewards in USDA.

Overall, EMURGO's launch of USDA on the Anzens platform is a significant development for the Cardano ecosystem, providing a fully fiat-backed, regulatory compliant stablecoin that offers stability to investors and a path forward for the Cardano ecosystem to address the problem of banking the underbanked. The launch of USDA is part of EMURGO's larger effort to bridge the gap between traditional finance and DeFi and provides a glimpse of the future of the crypto industry.
EMURGO is a key player in the Cardano ecosystem, working to promote the adoption of the Cardano blockchain through its range of services and investment activities. With its deep experience in blockchain solutions deployment and global network of industry partners, EMURGO is well-positioned to provide strategic capital and support to companies and organizations looking to build socially impactful solutions on the Cardano blockchain. Keeping a close eye on where they deploy their capital or the announcement of funds could provide some alpha when deciding which areas of the Cardano ecosystem may see the fastest growth.
Subscribe to Flagletter
Get content like this in your inbox
Disclaimer: Nothing on this site should be construed as a financial investment recommendation. It's important to understand that investing is a high-risk activity. Investments expose money to potential loss.