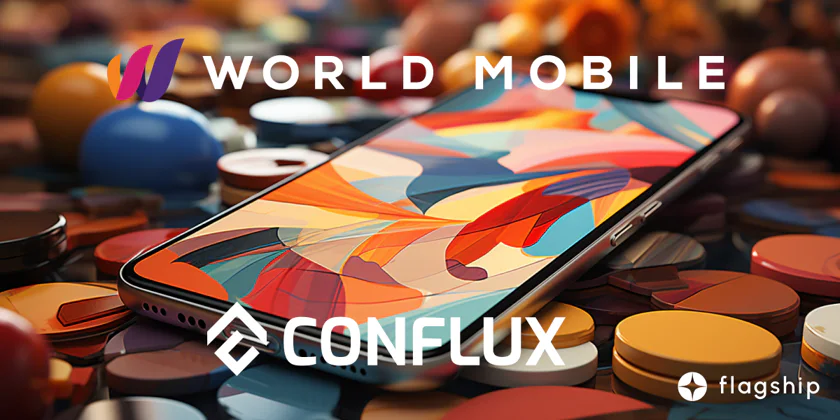 Conflux Network and World Mobile Join Forces to Expand Blockchain-based Mobile Access Globally
Discover how Conflux Network and World Mobile's groundbreaking partnership aims to revolutionize mobile access through blockchain technology, opening up new possibilities for global connectivity and market expansion.
---
Conflux Network, China's first regulatory-compliant public blockchain, and World Mobile, a global mobile network based on the Cardano blockchain, have recently formed a strategic partnership with the goal of expanding blockchain-based mobile access worldwide.

The partnership is centered around four key areas. First, there will be a public bridging initiative where World Mobile Token (WMT) will transition from the Cardano blockchain to the Conflux blockchain ecosystem. This move marks the first bridge for World Mobile's native token outside of the Cardano ecosystem.

The second area of focus is tech integration, where Conflux and World Mobile will work together to integrate the Conflux network into World Mobile's sidechain, AyA. This integration will enable EarthNode capabilities and financial settlement on the Conflux network.
The third prong of the partnership aims to expand into the Asian and African markets, leveraging Conflux's strong presence in Asia and World Mobile's influence in the African market. Nigeria, in particular, has shown significant interest in Conflux's CFX token, making it an essential target for market expansion.

Lastly, the partnership will explore the development of a blockchain-based SIM card. World Mobile will investigate how it can optimally utilize Conflux's blockchain-based SIM card technology to increase digital connectivity access worldwide.

YuanJie Zhang, Co-Founder of Conflux, highlighted the importance of global partnerships in advancing Web3 adoption. He emphasized that Conflux Network is committed to pushing the boundaries of Web3 adoption at a low cost, with fast speed and decentralized security. He also stated that World Mobile is a significant partner for Conflux after China Telecom, and together, they will bridge affordable and applicable blockchain technology beyond Asia to the rest of the world.

Zachary Vann, Head of Token at World Mobile, expressed excitement about the partnership and how it will accelerate their market expansion in Asia and global connectivity efforts. He noted that Conflux's unique regulatory-compliant blockchain and blockchain-based SIM cards offer numerous opportunities for their mobile network and AyA chain, enhancing their network and sharing economy in Asian markets and beyond.

The partnership between Conflux and World Mobile comes at a time when both companies are gaining traction in their respective markets. Conflux's position as the only regulatory-compliant public blockchain in China provides an advantage for projects looking to enter the Asian market. On the other hand, World Mobile's blockchain-based model allows individuals and businesses to participate in a sharing economy while connecting their communities online and earning revenue.

This collaboration represents a significant step forward for blockchain integration in the mobile and telecommunications industry in Asian and African markets. By combining the strengths of these two blockchain giants, the partnership has the potential to drive the wider adoption of blockchain technology and increase digital connectivity access globally.
Disclaimer: Nothing on this site should be construed as a financial investment recommendation. It's important to understand that investing is a high-risk activity. Investments expose money to potential loss.