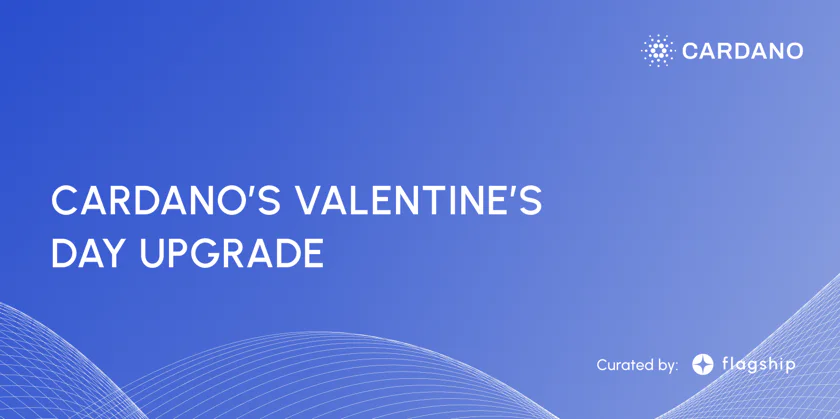 Cardano's Valentine's Day Upgrade
We deep dive into the latest upgrade to the Cardano network named the Valentine's Day upgrade.
---
Cardano has been upgraded with new features aimed at improving security and interoperability. The latest upgrade, dubbed "Valentine," will enhance cross-chain functionality for decentralized finance (DeFi) applications building on the network. In addition, the upgrade will bring enhanced cryptographic features to Cardano while improving cross-chain dapp development on Plutus, the smart contract platform of the Cardano blockchain. This will likely improve the utility of Cardano's native ADA token, and indeed the token outperformed bitcoin and ether, with its price up 8% in the past 24 hours.

Input Output Global (IOG), the developer of the Cardano blockchain, announced that the new 'Valentine' upgrade is now live on Cardano's mainnet. The upgrade is expected to boost Cardano's cryptographic capabilities while facilitating the creation of cross-chain dapps on Plutus, the Cardano blockchain's smart contract platform.
Cross-chain bridges are software applications that enable transactions to occur between various blockchains. For example, such a feature on Cardano would allow developers to build applications that connect Cardano with other blockchains, giving users access to other blockchains to interact easily with financial services offered by Cardano dapps. Dapps rely on smart contracts instead of middlemen to offer financial services, such as lending and borrowing, to users, who often use that dapp's token or are rewarded in those tokens.
In addition, interoperability is vital for blockchain growth. As more dapps are built on Cardano, they mustn't be siloed to just one ecosystem, enabling users to interact with different blockchains and access a broader range of services. IOG noted that SECP native support promotes cross-chain interoperability while maintaining the highest level of security.
Cardano's new upgrade allows developers to build new and exciting dapps, increasing the demand for ADA tokens. The locked value of tokens on Cardano-based dapps has already increased over 100% since the start of January to over $110 million, suggesting demand.
After the Valentine upgrade was pushed live, the price of the ADA token saw a significant rise, up 8% in the past 24 hours, outperforming bitcoin and ether. As more DeFi applications choose interoperable blockchains such as Cardano, greater network effects can be achieved, and the value of ADA may continue to rise.
Cardano's Valentine upgrade is a significant development for the cryptocurrency, as it offers better security and interoperability. This will enhance the network's cross-chain functionality for decentralized finance applications and increase the demand for ADA tokens. The upgrade's potential to boost the utility of ADA tokens and promote greater interoperability may lead to an increase in the network effects and attract more DeFi projects to choose Cardano. Overall, Cardano has the potential to offer more accessible and seamless financial services to its users while delivering high-quality security, making it a promising investment option for cryptocurrency enthusiasts.
Subscribe to Flagletter
Get content like this in your inbox
Disclaimer: Nothing on this site should be construed as a financial investment recommendation. It's important to understand that investing is a high-risk activity. Investments expose money to potential loss.