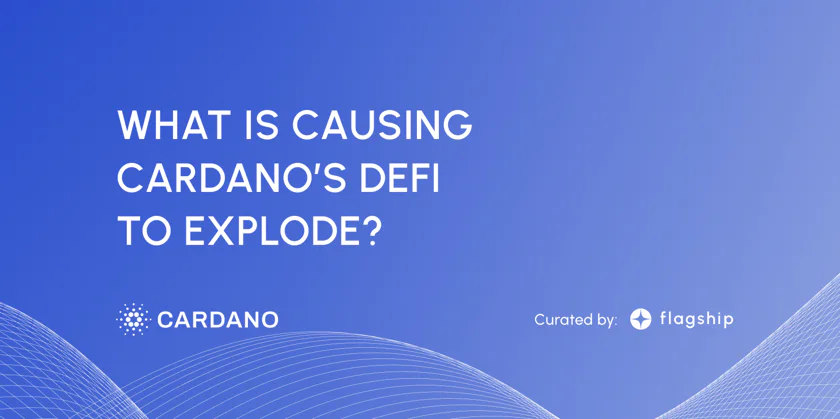 DeFi's Rising Star Cardano: TVL blasts through $400m in ADA
In this article, we'll have a look at what is causing the TVL in Cardano's DeFi ecosystem to explode.
---
Cardano (ADA) is experiencing a significant increase in the total value locked (TVL) within its ecosystem. The TVL represents the amount of cryptocurrency locked in smart contracts within the DeFi ecosystem and serves as a measure of overall activity and liquidity. As of May 23, the TVL in ADA reached an all-time high of 428m ADA, indicating the thriving nature of Cardano's DeFi ecosystem.

As can be seen below, TVL for the Cardano ecosystem is up significantly in ADA terms, but still lags behind the levels set during the last bull market in USD terms. This can be attributed to the drop in the price of ADA over this period. The blockchain native token is down significantly from the all-time highs set during the last bull market.
Among the top protocols within the Cardano DeFi ecosystem is the decentralized exchange (DEX) Minswap, which dominates with a TVL of $58.6 million. Indigo, a decentralized non-custodial synthetic assets protocol, follows closely with a TVL of $30.8 million. Other protocols such as WingRiders DEX, Djed stablecoin, and Liqwid lending protocol complete the top 5.
The increase in TVL is further supported by the deployment of more than 1000 Plutus V1 smart contracts on the Cardano network in 2023. While this figure still pales in comparison to Ethereum's weekly deployment of over 100,000 smart contracts, analysts speculate that Ethereum's network congestion and high gas fees could drive users towards cheaper alternatives like Cardano.

The success of Cardano's DeFi ecosystem can be attributed to its unique approach to scalability, sustainability, and security. The platform's proof-of-stake (PoS) consensus mechanism enables faster transaction processing and lower energy consumption compared to traditional proof-of-work systems. Additionally, Cardano's focus on code correctness, auditing, and the introduction of smart contracts through upgrades like Alonzo and Vasil further enhance its capabilities and attract developers and users alike.

In addition to the above one can't overlook the role $SNEK has played in the recent spike in interest in Cardano DeFi. The newly minted meme coin gained significant attention after the founder of Cardano, Charles Hoskinson tweeted about the token.
As Cardano continues to evolve and expand its ecosystem, with more developments on the horizon and the upcoming launch of major dApps, the future looks promising for its DeFi initiatives. The steady growth in TVL and the integration of Plutus V1 into Plutus V2 are indications of Cardano's potential to become a significant player in the DeFi space.
Disclaimer: Nothing on this site should be construed as a financial investment recommendation. It's important to understand that investing is a high-risk activity. Investments expose money to potential loss.