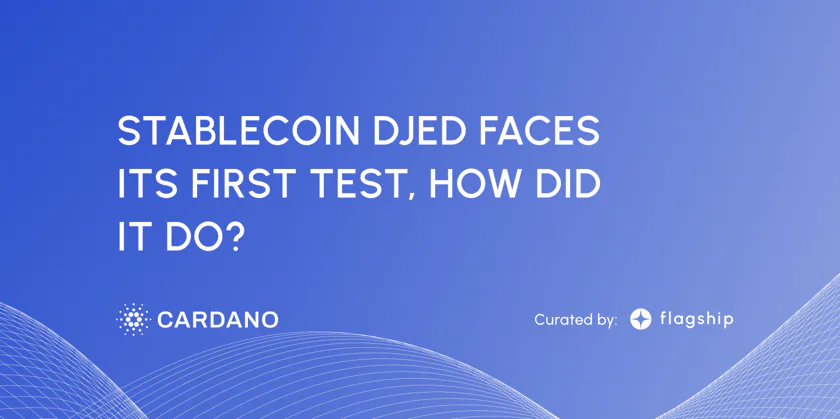 Cardano's stablecoin Djed faces its first test, how did it do?
With all the fear around stablecoin USDC over the weekend and a number of other stablecoin offerings under pressure, we look at how Cardano's newest algorithmic stablecoin responded to the challenge.
---
Djed, the stablecoin developed by COTI on Cardano, has been gaining a premium over the rest of the market in the wake of the recent storm in the stablecoin sector. At one point, Djed was trading at $1.08 against the dollar, and currently, it continues to trade at a premium even against the largest stablecoin, USDT.
The crisis in the stablecoin sector was the first significant test for Djed, which was launched on Cardano's core network just over a month ago. Djed, developed by COTI, is an algorithmic stablecoin with redundant collateral. It has a reserve of 33.28 million ADA, which is 428% collateral, and its circulating supply stands at 2.4 million Djed.
Shahaf Bar-Geffen, COTI CEO, took to Twitter to announce the increased demand for Djed in the wake of the recent stablecoin depegging events. He stated that "Throughout the storm, Djed has held its peg and will continue to do so."
According to a thread of tweets from the COTI Network, the increased demand for Djed has led to record trading volumes on DEXes and a spike in Djed minting. The trend is expected to continue in the near future due to the loss of trust in banking and fiat-pegged stablecoins, as well as the general turbulence in the market.
Djed is different from other stablecoins because it is decentralized, trustless, and anyone can verify its collateral on the chain. It is an overcollateralized stablecoin that uses exogenous collateral, ADA, to ensure stability. The protocol is backed by 400-800% over-collateralization and is guaranteed by its reserve coin, SHEN.
In times like this, SHEN holders have the opportunity to enjoy the increased demand for Djed and generate higher returns from the fees in the long run. Djed's success in maintaining its peg during the recent stablecoin crisis is a testament to its robustness and reliability as a stablecoin.
Overall, the stablecoin sector has been facing a lot of turbulence in recent days, but Cardano's Djed has managed to hold its ground and even gain a premium over other stablecoins. As the demand for decentralized and trustless stablecoins continues to grow, Djed's unique features and mechanism make it a promising player in the stablecoin market.
Disclaimer: Nothing on this site should be construed as a financial investment recommendation. It's important to understand that investing is a high-risk activity. Investments expose money to potential loss.